They came, they saw, they conquered.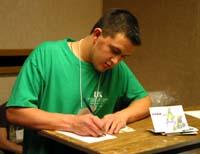 A group of about 20 4-H teenagers from Boyd County made quick work recently of putting together 200 "HERO Pack" backpacks for the children of Kentucky National Guard and Army Reservists who soon will be deployed. The young people were among hundreds of youth and adults attending the biennial Kentucky 4-H Volunteer Leader Forum, an event that provides opportunities for people not only to learn but to do.
"It's such a good project to be involved in," said Mary Crowley, a 4-H parent who accompanied the teens to the forum and filled a backpack or two herself. "Most of these (4-H) kids probably have no experience like the children that these bags are being prepared for. They have no idea what they're going through."
That didn't seem to keep them from the task at hand, however. In assembly-line fashion, the 4-H'ers stuffed backpacks with books, puppets, stuffed animals, journals and other items designed to provide a little comfort to children when their parents leave home to serve their country.
"We have 5,000 National Guard troops and 2,500 Reserve deployed in Kentucky right now. We expect to have 2,500 more deployed this year," said Wendy Stivers, University of Kentucky Cooperative Extension specialist for 4-H Youth Development, as the young people worked around her. "If you multiply that times two children per family, we have 15,000 to 20,000 military children in Kentucky – not counting what's at Ft. Knox and Ft. Campbell. I just want you to get a sense of what this community service project is about and to reflect and think about the families we're helping out."
Longtime 4-H'er Justin Harned, a senior at Paul G. Blazer High School in Ashland, was just content to be helping other people. But he readily admitted that this project is a special one. "We did this at state teen council in November, and it's a really good project to do."
The HERO Pack project is just one part of a two-year Operation Military Kids program that Kentucky 4-H has taken on to help young and old alike understand that there are military children living in their "own backyards," Stivers said. As part of the project, 4-H'ers will get the chance to present the backpacks to children when their parents are deployed.
"I think it's very important for 4-H youth to come eyeball to eyeball with the military dependents within their community and not just see what's on TV as some vague war that people are going off to somewhere," Stivers said.
Shining the spotlight on the project at the 4-H Volunteer Forum and allowing attendees a chance to participate in it seemed like a natural to Stivers, who played a key role in planning the popular event. The forum is designed to introduce 4-H staff, volunteers and others who work with young people to new educational opportunities and community service projects.
Likewise, it made sense for young people from Boyd County to want to pitch in; the husband of Boyd County 4-H agent Roxanne Gross is currently deployed to Ft. Bragg in North Carolina, Stivers said.
"When someone says to me, 'I don't have a Ft. Knox or a Ft. Campbell in my community, so I don't need to do anything with this project,' I say there are military kids who live in Pikeville to Paducah whose parents are deployed," Stivers said. "We all have a responsibility."
Attendee Karen Malone of Christian County works every day with youngsters at Ft. Campbell on the Kentucky-Tennessee state line and understands the importance of such a project. She also stopped by to offer a hand.
"This excited me because we have to live with this day by day, the deployment, the coming and going, the incidence that goes with it. Something like this is just great" she said.
Along with the toys and trinkets, the 4-H'ers also included a handwritten note thanking the children for "sharing" their parents in service to their country.
"It's the small things – cards, letters, thank-yous, small toys – that seem to make them light up," Malone said.
Once their work was finished, the Boyd County teens headed out in search for other opportunities to learn and do. But Crowley, whose daughter was among them, felt sure the project would not soon be forgotten.
"Service projects, in general, are wonderful for teens," she said. "It gives them a little bit better understanding that it's not all their little world."
In addition to the backpack project, the two-day forum at Lexington's Hyatt Regency offered more than 100 leadership and skill-building workshops, more than 30 commercial and educational exhibits, other community service projects and a variety of fun activities for participants. Volunteers from around Kentucky were recognized during the Hall of Fame awards banquet, as well.
"The Kentucky Volunteer Leader Forum is a great way for 4-H youth and adult volunteers to learn the latest about 4-H curriculum and projects that teach life skills to Kentucky youth," Stivers said. "It also provides a recognition and sharing of local projects for our 4-H volunteers, the heart of the Kentucky 4-H program."
Contact:
Wendy Stivers, (859) 257-5961