The smoky, sweet smell of country ham greeted visitors on the first stop of a tour aimed at highlighting value-added farm enterprises in Muhlenberg County.
The visit to Scott Hams was followed by stops at Perfect Turf sod farm and Lovell Gardens.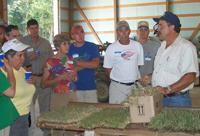 Agriculture amounts to a $48.6 million dollar industry in Muhlenberg County. However, that figure does not include many of the value-added agricultural products that are produced, processed and sold in the county, said Darrell Simpson, Muhlenberg County agent for agriculture and natural resources for the University of Kentucky Cooperative Extension Service. He estimated the industry to be more in the $100 million range when value-added enterprises are included.
Simpson said at a meeting of the county Extension council a tour to highlight the county was discussed, and it was determined that value-added should be the focus. Many people within the county don't have an idea of the diverse operations their neighbors are operating, he said.
"We need to recognize it as an agricultural community," he said.
Simpson said the value-added tour also was sparked by similar tour he took in Tennessee.
"You don't have to go elsewhere to see value-added agriculture," he said. "It is right here in our own county."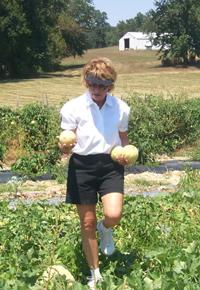 Scott Hams started as a part-time business in 1965 to supplement farm income, said Leslie Scott. Twenty years later, the family was completely earning its living from the ham business, and in 1995 it allowed them to buy a portion of the family's farm following the death of Leslie's father. Today, the ham business has grown to include whole hams, fully cooked hams, smoked sausage, country bacon, meal size portions of cooked and uncooked ham, gift books, sorghum, honey and jams produced by other farmers.
Scott, his wife June, and one full-time employee do much of the work. Seasonal help is added around the holidays. Their hams have won 14 national championships.
"Our main goal is to produce a safe product," June Scott said.
At Perfect Turf Inc., tour participants saw how sod is harvested and learned about the growing process. Greg and James Ekstam established the business in 2000. Greg Ekstam has been in the turf business for nearly 20 years.
The farm produces Bermuda grass and turf type tall fescue along with some zoysia grass. The business provides sod and sprigs to golf courses, athletic fields, landscapers and homeowners. The key to this business is marketing, Greg Ekstam said.
"You have to find the clientele, they won't find you," he said.
Finding the third stop on the tour involves just a short drive out of Greenville on a rural country road. Lovell Gardens has been in business for about 15 years and what started as a backyard hobby has turned into the largest truck crop farm in the county.
Donna and Don Lovell began growing tomatoes on a commercial level but scaled
that operation back to include other produce. A retail store was recently opened at the farm. Inside the store, visitors can find fresh produce along with jams, jellies and other products made by the Lovells.
Smokin' Tobys, a custom cooking and catering business, has just begun serving meals in the retail store. The Lovells and a partner own the business.
The Lovells are also noted for their fall pumpkin patch tours. They try to use local high school and college students as seasonal help and to provide them with summer jobs, Donna Lovell said.