The National Cattleman's Beef Association reported an estimated 31,700 jobs and $977.6 million of personal income are generated from Kentucky's beef industry. University of Kentucky family and consumer sciences extension agents are a direct link from the university and beef producers to the state's consumers, so arming them with tools to promote beef is a natural fit. That's why the UK College of Agriculture offered Beef Training Camp in two locations this year – Jackson and Elizabethtown. 

The first installment came in mid-May in Breathitt County, where more than 10 counties were represented at the hands-on event. UK Beef Specialist Darrh Bullock conducted the training with UK Meat Specialist Gregg Rentfow and representatives from the Kentucky Beef Council. Bullock said the training is aimed toward family and consumer sciences and 4-H youth development agents, but that agricultural and natural resources agents may benefit from the lessons as well. 

"We hope they are going to help promote beef to consumers statewide because that's all a part of our industry as well - to try to get acceptance of beef as a consumable product," he said. "We hope these agents will take the message to their clientele, who are consumers. We understand the demographics people who eat beef have changed. The folks who are eating beef are different, so we are trying to get the message out that we are in tune with today's lifestyle and (we are) trying to get a product out that is acceptable to the consumer today."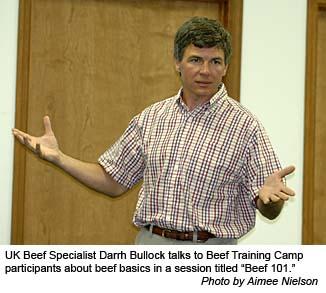 Presenters went back to basics with Beef Training Camp participants during a session called "Beef 101."

"Beef 101 is just to give these agents a feel for what's happening in the industry as a whole, especially the economic aspects of the industry," Bullock said. "We go through the realities of the economics of the beef industry and really the economic importance to Kentucky, which is huge – we rank eighth nationally in numbers of beef cattle, and actually if you look at it on a cow-per-square-mile basis, Kentucky is third in the nation in terms of cattle density."

Kentucky Beef Council's Allison Smith demonstrated two ways to cook beef – a recipe for the grill and a stir-fry concoction of beef, carrots and snap peas. The participants then followed Smith's lead and cooked their own lunch.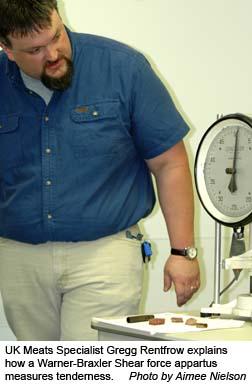 After lunch, Rentfrow discussed tasting panel techniques and conducted a mock panel with the participants. Since they were not in a facility where Rentfrow could control all the conditions, they were asked to close their eyes as volunteers brought them four different samples of beef. Rentfrow asked the extension agents to rank the tenderness and flavor of each sample. 

After the panel and before revealing the results, Rentfrow used a Warner-Braxler Shear force apparatus to determine the true tenderness of each cut. The WBS is the most popular way to measure tenderness in beef by determining how many pounds of pressure are required to cut through a one-inch core taken from each beef sample. Several agents were surprised when they actually preferred a sample cooked to a lesser degree of "doneness" than they were used to eating at home.

"I can actually eat a steak medium rare and be okay with it, rather than having to order a steak well done," admitted Natasha Lucas, Owsley County family and consumer sciences extension agent.

Rentfrow talked about more than beef tenderness. 

"The beef is the end product, and that's what we try to drive home is that we don't raise cattle, we raise beef," Rentfrow said. "Being the meat specialist, my job is to come here and explain the end product. And we talk a little about some the urban legends, the myths if you will, and that's pretty much my role - to explain what's going on in the food industry right now and how beef fits into the food industry right now, especially the healthy living angle."

He said the most important reason to teach these concepts to extension agents is because they are the ones who interact with consumers in the counties.

"If we arm them with the knowledge, they can go out there and take the message that beef fits into the healthy lifestyle, beef is a good product and it's a safe product," Rentfrow added.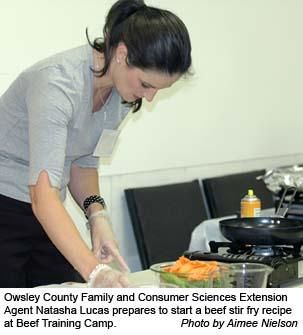 Lucas is a KBC Best Grant recipient. She's using the grant to promote beef in Owsley County and she found Beef Training Camp beneficial. 

"I have been using it (grant funds) the last month doing beef demonstrations with the monthly groups I go to, like the senior citizen's center, Kentucky River Community Care, Patient Center and some retirement centers," she said. "I've already done some lessons with them about food. This training has provided a lot of information about what to tell the shopper of the household, so they'll know what meats to look for in the grocery isle and some different characteristics about good steaks and good beef overall."

Beef Training Camp will help Donna Fryman, FCS agent in beef-rich Fleming County, put a KBC Best Grant to better use with her clients.

"Recently we've hosted two beef events. One was in February during Go Red, (we pointed out that), yes, beef can fit into a healthy lifestyle," she said. "With the help of Fleming County Cattlemen's and the KBC, we also put packets together for homemakers to share with others. We had calendars, recipes and other things that show people how beef can be healthy in a diet. Then recently at our homemakers meeting it was called Fleming Co. Proud … same thing but we focused primarily on food safety and how to grill beef outdoors."

For more information on Beef Training Camp, sensory panels or beef information in general, contact Bullock or Rentfrow at UK or the local UK Cooperative Extension County office.
Contact:
Darrh Bullock, 859-257-7514, Gregg Rentfrow, 859-257-7550