Norman Taylor has spent much of his tenure at the University of Kentucky traveling around the world to collect different varieties of clover from seeds to full grown plants to save them from extinction.
"I've been to Romania, Yugoslavia, Russia, Mexico, New Zealand, Scotland, to name a few, as well as many regions of the United States, collecting clovers," he said. "We try to collect rare varieties from all over the world to keep them from becoming extinct. We cooperate with and regularly send seeds to the National Seed Storage Lab in Fort Collins, Colorado."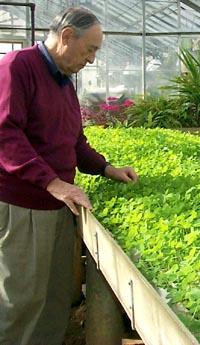 Taylor, now 75, is a professor emeritus in the UK College of Agriculture department of agronomy. He's still very active with the clover collection of the National Germplasm System located on the Lexington campus. He and research analyst Gene Olson carry out the four main objectives of the center – to collect, maintain, increase and distribute rare and common clover seed varieties.
One of the new clovers found, Kura clover, is useful for pastures. It comes from the Kura River region in the former USSR. A variety of Kura called Rhizo has been released.
Taking a stroll through the UK forage greenhouse reveals more than 200 clover varieties on hand. Kentuckians would recognize the most common variety, white clover, but red clover is also very common in the Commonwealth.
"We recognize about 232 species, and we have 205 here at the greenhouse in seed or plant form, mostly seeds though," Taylor said. "We get seeds from around the world and try to increase their amounts, this is where Gene comes in."
Olson works with the seeds in petri dishes. Once they germinate, he transplants them to containers in the greenhouse where they grow and form new seed pods. Seeds not currently being used are stored in freezers.
With the help of student workers, Taylor and Olson maintain this large seed and plant inventory and also take pictures for their books, web site and a browsable CD. They also keep an extensive library of herbarium specimens in folders that make identification easy.
Over the years, Taylor has received several rare specimens from people who find unique clovers growing in their yards, such as one variety that produces a wealth of four-leaf clovers. This particular variety often produces clovers with more than four leaves and even a cornucopia type leaf that shoots out from the middle.
Most recently, the center has released a variety of clover that has less "hair" on stems and leaves, making it valuable in hay production. Freedom! Clover does not have much hair on the stem and has a faster drying time with less dust in the hay.
"A major problem for livestock producers is dusty hay," Taylor said. "This variety reduces the hair, so the dust is less. I remember when I was a boy putting up hay, those haylofts would be so foggy, because of the dust from the hay. It will be beneficial to the animals and the producers if that problem is reduced."
Freedom! was exclusively released to a company in Oregon and was planted last fall. Once the seed levels are adequate, it can be released on the general seed market so local producers can give it a try.
Taylor and Olson are trying to improve Freedom!'s resistance to mildew and will then release an improved variety.
In addition to working with rare clover varieties, Taylor and Olson are working to preserve two native Kentucky species, buffalo and running buffalo clover.
"Buffalo clover is an annual and is probably the most beautiful of clovers in my opinion, " Taylor said. "It was here when the settlers came, and so was running buffalo clover. Running buffalo clover was thought to be extinct, but it's been resurrected. We are increasing it with the cooperation of the Bluegrass Conservancy to make sure these species don't disappear. We'll be providing a lot of seed of both species this year.
Taylor has authored or co-authored several books and articles, including his most recent book, The World of Clovers, which comes with a browsable CD.
Contact:
Norman Taylor  859-257-5785