No cases of the life-threatening strain of avian influenza, also referred to as bird flu, have been found in North or South America. Still, the University of Kentucky College of Agriculture believes in the importance of offering to the public information about the disease and how to prevent its spread.

"We have avian influenza in America, but not the H5N1 strain that is generating so much attention in Asia and Europe," said Tony Pescatore, Extension poultry professor in UK's animal and food sciences department. "Poultry companies are implementing programs to eliminate all strains of avian influenza."

Pescatore said it is important to put it all into perspective since the H5N1 strain is responsible for only about 200 cases of influenza in Asia, out a population of more than 3.7 billion. He said H5N1 is dangerous but it is not spreading quickly, and people who do get the virus have most likely had close physical contact with infected birds. 

The college has a Web site,http://www.ca.uky.edu/anr/avian_influenza.htm, listing information about avian influenza, including how to differentiate between types of flu; biosecurity and prevention measures; considerations for pets and nonfarm animals; and cleaning and disinfection. There are also several slide presentations and talking points. The site provides links to the World Health Organization and the U.S. departments of Agriculture and the Interior. 

The UK College of Agriculture has a unique role in educating people because its mission bridges the human health and agriculture communities, said Jimmy Henning, assistant director for agriculture and natural resources. 

Deborah Murray, associate director of UK's Health Education through Extension Leadership program said that HEEL provides a great avenue to get important health information to Kentuckians.

"Avian/pandemic flu is a complex issue that has many facets. Traditional health education programming has been clinical in nature, and often the root of many health problems are cultural, social and definitely family related," she said. "We have to have all perspectives at the table even those who, on the surface, would not appear to have any expertise to bring to the table. HEEL attempts to bring together all of the expertise available to address a health issue. We ask some of the questions that some of the 'specialized' health education practitioners don't ask and help facilitate bringing folks to the table."

The UK College of Agriculture, UK Cooperative Extension Service and the UK HEEL program are collaborating with the Kentucky Extension Disaster Education Network to define roles of Extension professionals should any influenza strain become a pandemic outbreak in the United States. 

Family and consumer sciences Extension agents will work to educate individuals, families and communities about preparing for crises, focusing on family roles such as dependent care, resource management, health and safety. They will provide the most current research-based information on possible crisis situations. The goal is so diminish panic through education and planning and to encourage and develop critical thinking skills.

Agriculture and natural resources Extension agents will educate agricultural and nonagricultural clientele about the differences between avian and pandemic flu; the symptoms of avian flu; safety of consuming poultry and poultry products; proper methods for handling healthy and sick birds; how to report sick domestic and wild birds; procedures to follow in the event of an avian flu outbreak and appropriate biosecurity measures. They will also encourage agricultural producers, hunters and the general public to deliberate on possible scenarios, appropriate responses and ways to prepare for crisis. These efforts should result in earlier detection of potential avian flu outbreaks and improved communication between clientele and appropriate governmental reporting agencies. Extension 4-H youth development agents' roles are still being developed.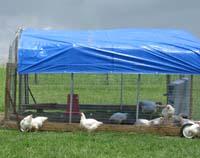 Pescatore stressed that "while we need to prepare people, we don't want to scare them." He said mammals and birds always have influenza viruses circulating in their respective species.

"Flu viruses usually stay within a species," he said. "The H5N1 strain infects birds easily, but does not easily infect humans, and so far, this strain is not contagious between people."

Murray added that an outbreak of a deadly flu pandemic is expected to be spread by migratory birds.

"There is a concern from our farmers and our consumers about the safety of our food supply as well as the safety to our citizens," she said. "Biosecurity is important, and the measures taken in our rural areas can help with the public health efforts. In any epidemic there is always a food concern – will we have adequate and safe supplies of food and water to assist us in dealing with epidemics? It is important that those of us who live in rural areas and those in urban areas understand the issue from all perspectives and work together to address it."

Pescatore said it's important to remember that doing little things now will prevent the need to do major things later.

"Avian flu will not sneak up on the United States or Kentucky," he said. "We have surveillance programs in place and we're working to educate farmers and consumers about avian flu so they will know what to do should an H5N1 outbreak occur."

"I'm pleased so far with the college's proactive effort," said Andrea Husband, program coordinator for agroterrorism and disaster preparedness. "We don't even have H5N1 in the U.S. and, yet, we are preparing for it. I'm very excited about that because we won't be caught off guard."

A broader-reaching Web site about pandemic flu in general is available through HEEL at http://www.ca.uky.edu/fcs/pandemicflu/.
Contact:
Deborah Murray, 859-257-2968; Tony Pescatore, 859-257-7529; Andrea Husband, 859-257-7868