A little more than three years ago, University of Kentucky Dairy Scientist Sharon Franklin brought her cancer-fighting milk research to Lexington from South Dakota.
Franklin and her colleagues believe that higher concentrations of conjugated linoleic acid in milk products will increase cancer resistance in people who consume the dairy products.
"Feeding natural CLA to lab animals has been shown to decrease cancer substantially," she said. "Studies suggest the benefit would also apply to humans to reduce the risks of cancer, especially breast cancer."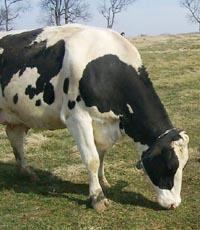 When Franklin first started at UK, she was just formulating the "recipe" to increase CLA, but these days she's seeing some of the fruits of her labor as the higher CLA milk fat is made into consumable products such as cheese, butter and yogurt.
"We collected part of the milk from our last trial and took it to Kenny's Country Cheese in Barren County," she said. "He processed it into cheese and we have been doing taste testing and consumer evaluations."
Franklin and UK Agricultural Economist Leigh Maynard conducted the taste tests in a grocery store, allowing consumers to try the cheese. She said of 53 customers who sampled the product, 52 liked it "very much."
"We even offered the cheese for sale and it sold very well compared to the cheese that did not have the high CLA content," she said. "The consumers were very interested in the potential health benefit of CLA products."
Interestingly, consumers have stated they would be willing to pay a premium price for CLA enhanced products. Since there are a few added production and processing costs, dairy producers would have to ask a slightly higher price for the CLA-enhanced products and Franklin believes consumers would accept the price hike.
"Premium prices will provide more money to the dairy producers," she said. "All of our testing and marketing survey questions have shown us consumers would be willing to pay as much as $1 a gallon more for CLA milk and up to $1 more for two pounds of butter. The consumers said if the research continues to show health benefits, they would be willing to pay quite a bit more for the cheese."
Kentucky Milk Producers Association President and dairy farmer Evans Wright has been milking cows for about 20 years.
"It's one of the more exciting things to come on the scene, more so than any natural food, " he said. "CLA occurs in beef products, but in greater concentrations in dairy cattle. We've found that we can naturally elevate the levels of CLA in dairy products to a level that is a known cancer inhibitor."
Wright said it's not too lofty to think that one day soon a person would only have to consume a normal day's worth of dairy products to guard their body against cancer.
"A person could consume about three glasses of milk, a couple slices of cheese and two pats of butter and have about 50 percent cancer protection against breast and colon cancer for example," he said. "The feeding program also contains another fatty acid called omega-3, which promotes healthy heart function."
Wright is trying to organize the KMPA members to make them aware of the research and its potential for the public and the dairy industry in Kentucky.
Franklin said the UK Dairy feeds its cows a special ration and that there are several feed supplements that can increase CLA. She is hopeful the research will soon benefit dairy farmers in Kentucky and beyond, giving them a way to increase income and contribute to healthier living at the same time.
Contact:
Sharon Franklin  859-257-3248