When former Kentucky Vineyard Society president Robert Miller began reorganizing the group in the early 1980s, Kentucky only had two bonded wineries. This was a stark difference from the state's heyday before prohibition when grapes were a more popular crop than tobacco. In the past 20-plus years, growers increasingly have returned to grapes and the industry has made a comeback. 

Now with more than 40 licensed wineries in the state and more than 700 acres planted in wine grapes, growers look to the University of Kentucky to provide guidance and expertise in getting the highest quality crop possible. 

Recently UK hosted its first Viticulture Field Day at the Horticulture Research Farm in Lexington. Kaan Kurtural, UK viticulturist said the turnout for the event was exceptional.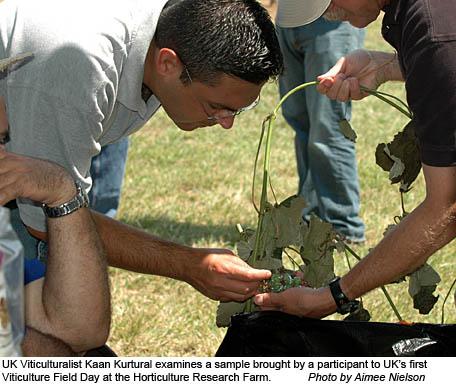 "We only had about 45 people sign up," he said. "But more than 90 actually showed up, and that speaks well of this growing industry. People are excited about growing grapes and making wine in Kentucky and they are looking to us at UK to show them how to do it right."

Kurtural is in his third year at UK, along with enologist Tom Cottrell. Both came to UK's horticulture department in 2005 thanks to funding from the Kentucky Agricultural Development Board through the Kentucky Grape and Wine Council. UK Department of Horticulture Chair Dewayne Ingram hopes the positions will both become permanent. 

"We're just touching the tip of the iceberg in what we can do in the industry in this state," he said to the crowd gathered at the July 7 field day. "We have had cooperation from horticulture, plant pathology and even landscape architecture and others. They say 7-7-07 is a lucky day. To me, luck is when preparedness meets opportunity and we are becoming prepared for opportunities in this industry."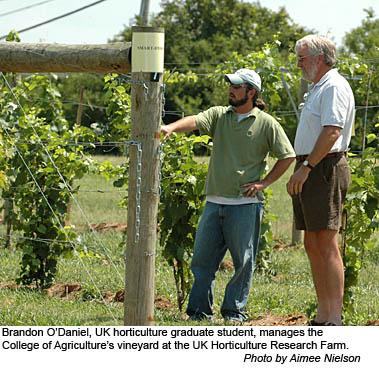 Participants listened to grape and wine experts from Kentucky and other states and also got out in the vineyard to learn about canopy management, crop estimation, vineyard mechanization and spray machinery. They also learned about managing insects and pests like the Japanese beetle. 

After the Easter freeze, many growers suffered significant vineyard losses. Plant pathologist John Hartman talked to growers about the importance of managing diseases in a 
year with little or no crop. Kurtural stressed the importance of French-American hybrid varieties in surviving and thriving despite Kentucky's unpredictable weather patterns. In between sessions and at lunch, growers showed vine samples to experts and got opinions on problems they may be having in their vineyards. 

Kentucky Vineyard Society President Chuck Smith said there is a lot of excitement among the state's grape growers and wine makers about the future of the industry. He also said there's a lot of work to do. 

"I used to be a dairy and tobacco farmer. This isn't as hard as milking cows, but man, sometimes I wish I had a crop of tobacco," he said to a response of laughter. "It's a challenging business and you have to make sure you do your research before you jump in with both feet."

The day ended with a supervised educational tasting of UK and other Midwestern wines conducted by Cottrell.

For more information about grapes and wine in Kentucky, contact Kurtural at 859-257-1332, Tom Cottrell at 859-257-0037 or the Kentucky Vineyard Society.
Contact:
Kaan Kurtural, 859-257-1332