Count to five. Another child just died of hunger. Count to 19. Those few pennies can feed a child in a Third World country for a day. Count still further to 34. That's how many dollars it takes to feed that child for a year. Looking at the latter two figures, it would seem like a simple solution to end world hunger. But then consider that more than 300 million children around the world suffer from chronic hunger. Consider that in the year 2006, an estimated 854 million people remain underfed and malnourished. 

Those numbers may seem overwhelming, but Janet Tietyen thinks they shouldn't scare people into inaction. Tietyen, a University of Kentucky Cooperative Extension specialist in food and nutrition, is spearheading UK's involvement in a nationwide movement called "Universities Fighting World Hunger," started by Auburn University in conjunction with the United Nation's World Food Programme.

"There's enough food in the world to feed everybody, so that's not the problem. The problem is that it's not in the right places and it doesn't get distributed due to lack of political will," Tietyen said. 

World Food Day is celebrated every year on Oct. 16, the birthday of the UN Food and Agriculture Organization. As in past years, activities were held on the UK campus to raise awareness of the world's plight. But this year was different, Tietyen said. UK joined with 30 other college and university campuses across the country for the national launch of "Universities Fighting World Hunger."

Tietyen said there is great potential at the university level to bring about change. 
"We know that education can solve many ills and that universities together can be very powerful in this fight," she said. 

UK already has strong ties with sub-Saharan Africa, an area of the world where, Tietyen said, hunger issues are not improving. Kwaku Addo, associate professor in the College of Agriculture's Department of Nutrition and Food Science, and a native of Ghana, teaches a study abroad program in that country. With its stable government, Addo said in his presentation during UK's World Food Day event that Ghana could be a safe central base to fight hunger in other countries in the region.

Tietyen agrees. "It makes perfect sense for us from this campus, especially in agriculture and human environmental sciences, to strengthen that link and work on food issues that are of importance in that region."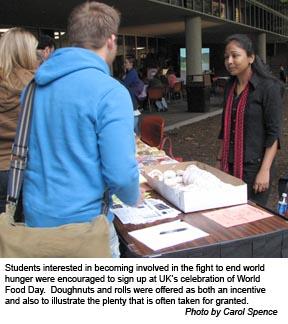 This year's World Food Day theme was "Investing in Agriculture for Food Security." Since the early 1980s, foreign aid for agriculture and rural development has declined by 
$4 billion. Small-scale farmers, who comprise the largest group involved in agriculture, often cannot provide enough food for their own families. With a concerted effort, that ill-fated system can be turned around by improving education, infrastructures and technology.

UK has an experienced partner nearby in Georgetown College. Last year, four Georgetown College students began "Project Compassion," which raised money to feed children in four Guatemalan schools. Two members of that four-person team spoke at UK's event. Whitney Elliott told the crowd of about 30 that they decided to "adopt" 1,400 Guatemalan children because that was the same number of students at Georgetown College. Their goal was to get every student on campus to donate $34, the amount of money it takes to feed a child in a Third World country for a year. Though not all the money came from the student body, Elliott said they presented a check for $50,000 to the UN World Food Programme at the 2005 commencement ceremony.

UK can learn from Georgetown's example, Tietyen said. Her goal is to raise awareness on campus and get people engaged. With students working as advocates for ending world hunger and faculty bringing the issue into the classroom, she believes that UK will produce good global citizens who can reach a completely achievable goal within their lifetimes.

"Ending world hunger is a matter of food distribution and good governance and advocacy, fundraising and more people wanting to make a difference."

For more information about how to become involved in the fight to end world hunger, contact Janet Tietyen at jtietyen@uky.edu.