Finding native Kentucky plants that have good ornamental characteristics and are worthy to be used in landscapes and the nursery industry is the goal of the University of Kentucky Nursery Crops Development Center.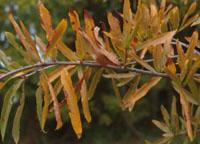 "The reason that this came about is that Bob McNeil and myself are constantly approached by out-of-state botanic gardens and arboretums wanting to collect plants in Kentucky," said Win Dunwell, University of Kentucky Cooperative Extension Service horticulture specialist. "We would put them in touch with people in state government, natural resources, the Nature Conservancy. We kept thinking if they think these plants are so valuable that they come to Kentucky to collect, then maybe we should look at some of them and develop them into a commercial commodity. That is the basic premise."
The center is also the umbrella term for all the ornamental horticulture work being done at the University of Kentucky Research and Education Center including evaluation of southern plants in Kentucky landscape and nurseries.
Some of the native plants being developed include willow oak, aster, rudbeckia and spigelia.
The willow oak has very small leaves and is perfect for an institutional plant because the leaves blow away and there's no trash or raking problem. It is a very good oak tree compared to pin oak or red oak, Dunwell said. There is high demand for willow oak but trees grown from seeds collected in states to the south of Kentucky lack cold hardiness. Therefore, losses in Kentucky nurseries are substantial.
"Ultimately what we want to do is select a Kentucky willow oak that Kentucky nurseries can grow and get a very high survival rate, a very high percentage of success, a high percentage of saleable plants and a high return," he said. "Plus it identifies Kentucky as a nursery state because this plant was developed in Kentucky, and grown by Kentucky nurseries. The premise is to give Kentucky a reputation as an active nursery state developing its own cultivars."
The willow oak project will take a number of years but there are other plants being developed that can be ready for nursery production more quickly such as native wildflowers. In the past, these flowers have not been extensively developed because they are hard to propagate or people don't know how to propagate them, Dunwell said.
"We are doing a little bit of evaluation on a wildflower called spigelia marilandica, Indian pink. It's a very attractive plant with a small, subtle red flower with yellow inside that is difficult to collect seeds from. So, we are looking at other ways to propagate it. People are coming from other states to collect it."
Dunwell said he has collected a fall flowering blue aster from along roadsides and across the state. What they look for is one that has bigger flowers and try to develop future plants from that plant.
Tobacco settlement money is being used on one project which collects seed from a rudbeckia containing a number of small sunflowers from along the sides of the road. The native varieties are being compared with commercial cultivars to see if any are superior to what is already on the market. Nursery crops Extension associate Amy Fulcher is leading this project.
Mountain laurel is also a plant being developed. It has some difficulties but seems to be very drought tolerant something that would work well across Kentucky. Mountain laurel suffers some leaf diseases in nature. Selecting for disease resistance and good vigor in Kentucky landscapes will be selection objectives, Dunwell said.
"This along with willow oak are woody plants that may take more than one career for someone to come up with something, but if no one ever starts it, it never comes to fruition," he said.
At the UKREC in Princeton the focus is on the commercial aspect of these plants. Their use in home landscapes is being evaluated in Lexington and at Bernheim Forest.
"With a new crop we are trying to develop something that would give Kentucky an identity and we might be able to develop something that increases wholesale opportunities for Kentucky nurseries," Dunwell said.
Also, he said he could see that in the future some landscaping projects may require the use of native species.
"Someone needs to know how to propagate something like ladies slippers so people aren't going out and collecting them and destroying our natural environment," Dunwell said.
Many of the native plants being studied are in the nursery at the UKREC and can be seen this summer during the biennial field day on July 18.
Contact:
Win Dunwell, 270-365-7541