As University of Kentucky senior Matt Stephens completes his bachelor's degree this spring, he takes away with him more than a diploma. He graduates with a considerable amount of hands-on, real-world research experience involving insects.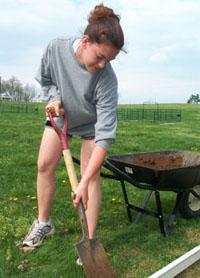 "I've been dealing mostly with the eastern tent caterpillar lately because of its importance right now in the investigation of Mare Reproductive Loss Syndrome," Stephens said. "The work I've done is really eye-opening because there is a lot we don't yet know about the tent caterpillar in terms of control."
Stephens, a biology major who plans to go on to graduate school, has taken several classes in UK's department of entomology in the College of Agriculture. During classes this spring he helped test the effectiveness of various novel, reduced-risk insecticides and control strategies on eastern tent caterpillars.
"We took cherry shoots from the field and sprayed them with various products and put caterpillars on the sprayed cherry leaves making sure this was their only food source, then we determined how quickly the insecticides did the job," Stephens said. "I also went to the field every two days for several weeks during caterpillar egg hatch to track progress of the caterpillar's emergence this year."
Another student, Claire Collins who earned her bachelor's degree from UK last December, also had hands-on involvement in tent caterpillar research trials. Collins worked in the lab of entomology professor Bruce Webb to determine if cyanide was present in caterpillar digestive tracts.
"I dissected three separate groups of 50 feeding caterpillars and ran cyanide assays on them to determine if cyanide was present," Collins said. "We also tested water samples because one theory was that caterpillars might be getting into water troughs and passing cyanide to horses drinking from the troughs."
Collins, who begins graduate school in California this fall, exhibited a poster and gave a 10-minute presentation on her findings to a conference of professional entomologists last December. This spring she was hired by UK to assist in a project that tests the possible interaction between eastern tent caterpillars and pregnant mares.
"We have tremendous confidence in our undergraduates and there are several benefits of these hands-on learning experiences for both the student and our research program," said Dan Potter, UK entomology professor. "I look at these bright young people as potential graduate school material, if not in UK's program then at another university where it reflects positively on the University of Kentucky. And then the other big advantage is that these undergraduate projects may allow early investigations without a big commitment of time and resources that may ultimately lead to larger research projects later on."
Potter said top students like Collins and Stephens are encouraged to work with data and test hypotheses, and to present their findings at scientific meetings.
"Having some real-world learning projects certainly helped me years ago when I was completing my undergraduate work, and I want our students here at UK to have that same valuable experience," Potter said. "Our research technicians, such as David Held, and our graduate students have been extremely supportive of our undergraduate interns, and in turn the undergraduates help the grad students and technicians complete their work."