Jackson resident Glenn Brandl has been through several career changes and has even lived much of his life in Central America before settling in the Appalachians of eastern Kentucky.
He is one of about 60 people recently hired by a new wood product manufacturing company in the Hazard area.  However, before Brandl starts working at the plant, he must complete a three-day training program at the University of Kentucky Wood Utilization Center in Quicksand.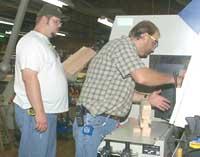 "We're training the first 40 or 50 employees for American Woodmark, a new secondary wood products manufacturing company that makes kitchen and bathroom cabinets," said Carroll Fackler, superintendent of the UK Wood Utilization Center. "We're training their workforce to operate the exact equipment they will use in their career at the plant."
Fackler admits the cooperation between American Woodmark and UK is a unique endeavor, and one that benefits them both.  Woodmark plans to add approximately 100 employees who will all go through the UK training program.
"We've always had our one-on-one outreach programs with industry, but we've never specifically designed a program and went to such lengths with a company to train their employees as we have with Woodmark," he said.  "We've moved equipment off our floor, rearranged machines and have been working six days a week to get their work force trained so they will be prepared to operate the machines by the company's opening date."
Darrell Goff, plant manager at American Woodmark, said the company chose to locate in the region partly because of the high-quality training they could work out with UK and the technical and community college system in Kentucky.
"Through the UK wood center we've been able to set up a training program for our employees and we were able to set up our own equipment there," he said.  "So the training has really helped us get a jump start on opening the plant.  The training equipment is the same as what is on our floor and that gives us about a month head-start on being able to position people on the machines.  They are already groomed to take hold of and operate the equipment."
Goff said Woodmark also chose Hazard because of its location in the heart of the Appalachian hardwood timber region and its proximity to other plants on the East Coast and northern regions of the United States.
Currently American Woodmark manufactures about 18,000 cabinets per day and Goff said the goal is to produce 35,000 per day by 2007.
When a new plant gets started, there are many factors that go into making it run successfully.  Fackler said the employees don't just learn how to operate equipment in their training sessions. 
"There's more to it than learning equipment," he said.  "You must contend with things like personal relationships and teamwork.  You also have to know how to identify wood and how to identify defects.  You have to know about the product you are manufacturing and we incorporate all those things in these courses"
The partnership between UK and American Woodmark is a result of extensive cooperation among UK, Kentucky's Technical and Community College system, local and state governments, as well as several other educational and developmental agencies. Fackler has even brought in two training facilitators from Hazard Community College.
The areas of the Kentucky River Basin, including Breathitt, Perry, Owsley, and Lee have had economic hardships for many years, so people in the area welcome any endeavor that will bring a chance of sustainable employment, Fackler said.
"Kentucky produces some of the finest hardwood timber in the world and we have this wonderful wood utilization center here, so we decided to combine the two and develop a workforce that will compete in a world-class market," he said.  "The impact on the local community will be huge.  These are sustainable jobs that pay enough to allow people to raise a family in Eastern Kentucky and be proud of it."
Fackler mentioned they have a contingency plan with American Woodmark to provide further training as needed in the future, just as they do with other secondary wood manufacturing plants across Kentucky.
As for Brandl, he feels very prepared to enter the work force at American Woodmark after his training at the UK Wood center is complete.
"This is very intense hands-on training," he said. "Now, I'll get to go out there and apply it.  And it's not just training straight out of a book.  We're actually making components that they will ship out as a part of the company's production.  Everyone wants to make a better way for themselves in the world, and this partnership is giving people in east Kentucky a good opportunity to do that."
Contact:
Carroll Fackler  606-666-2438, ext.235