Every year members of the Warren County 4-H Sewing Club decide on a summer project to help hone their skills and to help others.

Ruth Moyers, 4-H sewing volunteer leader, said during the fall and winter months the club meets and works on 4-H projects that the young people will be showing at fairs and other activities. During the summer months, they work on community service projects. This year, one of the club members suggested baby quilts for a local pregnancy support center, so that's what they did, she said.

"We met one day to pick out the fabric and then we met to do the sewing," she said. "Most are hand-tied quilts, because we thought those would be easier but some of the material was already quilted so we put a binding on them."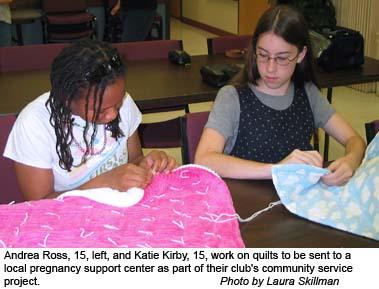 Ashley Kirby, whose two daughters are members of the club, made the contact with the support center. The center is a nonprofit organization that helps women or families that have a planned or unplanned pregnancy they are having difficulty with, she said. Its services include parenting classes. If at least one parent completes the sessions, the family will receive a complementary baby quilt from the sewing club.

It was Kirby's daughter Katie's idea for the quilts.

"At the first meeting we were discussing the possibilities for the summer service project and someone mentioned making blankets for the hospital and I just whispered to Mama why not do it (for the support center) and everybody thought it was a good idea," said the 15-year-old.

Janet Turley, Warren County 4-H youth development agent with the University of Kentucky College of Agriculture, said every year the sewing club comes up with a unique idea for their service project.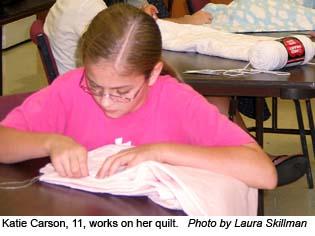 "I've been here 11 years and the sewing club always picks a very large project to work on," she said. "Today we're making baby quilts. In the past, they've made hooded fleece jackets for St. Vincent De Paul and Goodwill, and bags for wheelchairs and walkers for adult day care centers. They always do something and donate to centers in the community. Community service is very strong in 4-H clubs and every 4-H club tries to do some type of project. It is a big part of the 4-H program."

Katie Carson, 11, who picked a pink check material for one side of her quilt and pink Pooh for the other side, said she's enjoyed helping with the blankets and honing her skills.

"When I was little I wanted to learn how to sew and my mother found out about the sewing club and I've been doing it for two years now," she said. "I like making clothes."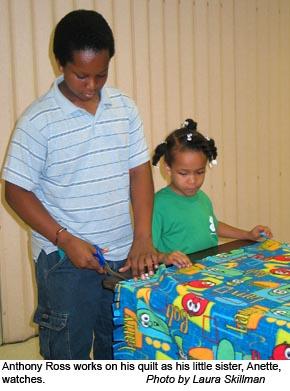 Anthony Ross joined the club three years ago after seeing what his sister Andrea, 15, also a club member, was doing. He chose a brightly colored fleece material for his blanket.

"I picked out the fleece because I liked the color and the pattern - Veggie Tales, Bob, Larry and Junior," he said.

Recipients of the quilts will know that they were made by small hands with care. Each quilt contains a label embroidered with these words: With Love from Warren County 4-H Sewing Club.
Contact:
Janet Turley, 270-842-1681