For 18 years, young people across Webster County have spent a day on the farm learning about safety in a communitywide effort to reduce injuries and save lives.

"We bring the fourth graders in from around the county and we have different stops to try to increase the awareness of farm safety and home safety as well," said Vickie Shadrick, Webster County Extension agent for agriculture and natural resources with the University of Kentucky Cooperative Extension Service. "And we raise awareness of where their food comes from and how agriculture touches everybody, not just the farmer." 

After 18 years, Shadrick said the need for the program continues and the support from the community remains strong. It has also been duplicated by other communities across the state over the years. 

"The teachers have really helped us out and promoted this and say the kids really do learn," she said. "Sometimes it's hard to gauge the impact on this kind of an event. But when the teachers come back to you every year and say they want to do it again next year and it's on their calendar, even with budget and travel constraints, they put this as a priority. And that tells us there is still the need there, because they are learning safety both for the farm and home."

Susan Gooch, Dixon Elementary School teacher, said she's been involved with safety day for about five years.

"I think it is a really good idea," she said. "We live in a rural community and this helps explain a lot of the things that happen on a farm, especially for the kids that live in town. I've learned a lot of things here and it reinforces a lot of the science and other subjects we teach in class. The kids always have a good time and it's real easy for us because it is all so well organized and we just kick back and learn with the kids."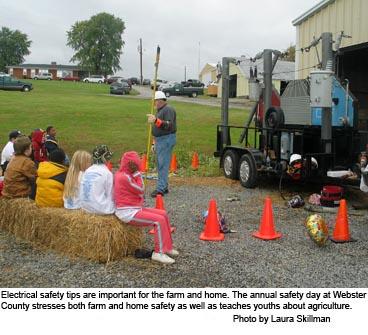 In addition to the Webster County Cooperative Extension Service, Webster County Conservation District, Natural Resource Conservation District, Farm Bureau, local schools and farmers work together to put on the annual event. Area businesses provide monetary support.

This year's event was spent dodging rain showers but thanks to the farm location and its many buildings, there was plenty of room for the activities to take place. This year 200 students attended, along with 50 adult volunteers. The farm hosts were Gerald and Jerry McGill.

"Webster County sees this as an event they are going to make sure is going to take place," she said. "Everybody we've ever worked with over the 18 years has been more than happy to help us out and do whatever they need to do to help us out and this family was the same."

Shadrick said the main things they hope students take away from the day is safety and that agriculture touches them.

"It's an array of information, but it touches every child regardless of their background," she said.
Contact:
Vickie Shadrick, 270-639-9011