Kozma and Laurot are the names of two grape varieties grown in eastern Europe that could become household names in Kentucky. Most grapes grown in Kentucky are French varieties that struggle to withstand cold, wet winters in some parts of the state.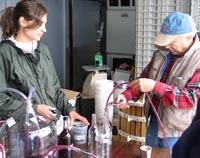 University of Kentucky College of Agriculture Enologist Tom Cottrell is bottling wine made from the late summer 2005 harvest of several eastern European varieties at the UK Research and Education Center in Princeton, as well as varieties grown at UK's South Farm in Lexington and at a local vineyard. The research may help determine whether or not the more cold-hardy grapes are viable for Kentucky growers and wine enthusiasts.

"2005 was the first year of having an official winemaking program at UK," Cottrell said. "We did about three different studies. One was a series of grape trials from the Talon vineyard in Lexington where Kaan Kurtural, the UK Extension viticulturist, used the Traminette grape. He did a study of pruning which we cross-referenced with three winemaking techniques. We are looking at the eastern European varieties that were planted at Princeton to identify which ones make nice tasting wines and might be worth propagating further. We also looked at the grapes grown here at the South Farm to see how they meet wine tasting standards later on."

Cottrell said all the fermentations took place at the South Farm last fall in a controlled environment where researchers could make adjustments to ensure uniformity. The varieties were cold stabilized and heat stabilized. Cottrell, along with plant and soil science graduate students, began bottling the wine in May 2006 to prepare for taste panels in June.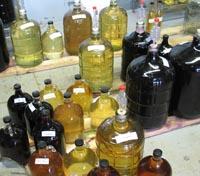 "We may find some eastern European grapes that are viable in various areas of Kentucky that make good wines," Cottrell said. "That's always a boon because Kentucky is favored greatly in the central Bluegrass region for growing the French varieties, but the rest of Kentucky is not particularly friendly to these varieties. The weather in the winter and the spring kills them, and no one makes any money when they have dead vines."

However, Cottrell said that some of the eastern European varieties may survive the winters better in other areas of Kentucky, giving growers outside the central part of the state viable options.

"Kozma is an interesting name, as is Laurot," Cottrell continued. "These are just a couple of the varieties; there also are numbered varieties."

Brandon O'Daniel has been involved in the grape and wine industry with his family for several years. He just graduated with a bachelor's degree in horticulture management from UK and now is pursuing a master's degree in plant and soil sciences with an emphasis in viticulture. He said even with his background, the program has been valuable to him.

"The highlights for me have been the amount of different varieties of wine I've been exposed to and the different trellising systems," he said. "It's a lot more broad and varied than the private cultivation industry. I've brought a lot of it back to them (my family) that has improved our yields and cut a little time off our labor."

O'Daniel, a Jessamine County native, believes the wine industry in Kentucky has the potential for a huge growth spurt in coming years.

"I think there's a lot of promise here in the state," he said. "I've seen a lot of good wines and a lot of good grapes grown here, and I think over the next 10 to 15 years we're really going to see an explosion in the wine industry in Kentucky."

Patsy Wilson is also a plant and soil sciences graduate student. Unlike O'Daniel, her background didn't include time at a vineyard.

"I wasn't raised around a vineyard; I'd just done a little fruit and vegetable farming and then got into horticulture here (at UK) so it's exciting learning about all the different grape varieties and I'm looking forward to learning more," she said. "Working outside (with grapes on the vine) and then working in the lab at a more molecular level is interesting – the wine composition is interesting to learn about."

After conducting taste panels in late June, Cottrell will work with Kaan Kurtural, UK viticulturist, and graduate students to publish the results of all three studies. Results could prompt changes in how grapes are pruned and what grapes are grown at UK and at vineyards across the state.
Contact:
Tom Cottrell (859) 257-0037