In early November, Kentucky agricultural women from across the Commonwealth met at the Executive Inn, Rivermont in Owensboro. Women came in teams of three or more to gain direction and learn leadership skills that will help them make a difference in their community. Facilitators from the nationally recognized leadership training group, Taproots, were on hand to lead the teams.
Some teams came with a very specific project or goal in mind, while others didn't create one until the conference began. Nonetheless, each group said they left feeling inspired to get to work so their team will have something positive to show at a six-month follow-up meeting in April 2002.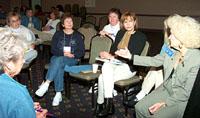 "This year's conference differed greatly from the first two," said Bonnie Tanner, co-coordinator of the conference and assistant director of Extension for family and consumer sciences at the University of Kentucky. "This one has been much more hands-on and the ladies will actually begin to work on a project in their home counties and report back in six months about their progress."
Tanner said the participation exceeded her expectations.
"I was excited to see the way people just jumped right in and got to the point," she said. "The way they have developed their projects these three days is great. You can just feel their excitement. I'm looking forward to seeing what they can do."
Some women worked on projects to bolster local agricultural markets, while others focused on more political efforts. Still others addressed concerns about youth in their home areas.
"I'm interested in helping youth better their lives," said Loretta Roberts of Leslie County. "My goal is to get agriculture back in the classroom. This conference format was wonderful and I got a lot of information I can use to get agriculture back in our schools."
Daphene Lewis of Clay County is working on a team promoting the trade of stone masonry in her community.
"We're trying to teach the youth a trade they can use," she said. "We need jobs in our county and we think stone fencing is a good start. "
Lewis said they eventually want to have a center in the county to teach students stone fencing and hopefully give them a reason to stay in Clay County and work as adults.
"There was a lot of information about where to get funding at this conference," she continued. "There's a lot of interest in the state for stone masonry because it's also a part of Kentucky's heritage. We're losing a lot of historical buildings, walls, and fences."
Alice Baesler, co-coordinator for the conference from the Kentucky Department of Agriculture said she was pleased with the networking opportunities and in-depth focus of this year's conference.
"What other time would you spend this many hours on a project at one time?" she said. "This was a good way to develop concentration and skills in creating a team. Also, I think the six-month follow up will be excellent. How many times have you gone to a conference and you go home elated and then you eat supper and that's it? This way, they have goals and they know in six months they have to report back and they want to come and shine with everyone else."
The six-month follow-up will be in April 2002, but the location is not yet known. Contact Tanner for more information at (859) 257-3887.
Contact:
Bonnie Tanner 859 257-3887