After a year of trying out new foods and learning ways to stay healthy, West Hopkins Elementary students put the activity portion of their learning to use at the West Kentucky 4-H Camp.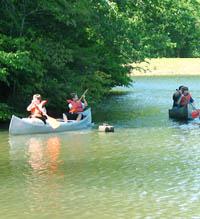 Canoeing, archery, softball, volleyball, challenge courses and nature walks were just part of the activities students had to pick from. 

Nancy Kelley, Hopkins County Extension agent for family and consumer sciences with the University of Kentucky Cooperative Extension Center, said the office received a Heidi Badgett grant, in partnership with West Hopkins, to do a yearlong program on health, nutrition and safety education from preschool through eighth grade, as well as with adults in the school. The grant is administered through the United Way. Additionally, Hopkins County used some of its CYFAR (Children, Youth and Families At Risk) program money on the program. The school's family resource center also financially pitched in to support the activities.

"We tried to get everybody in the building," she said. "The culmination of it all was a day at camp. It's just a day away from desks and computers. The kids are involved in physical activities and they are doing fun things that they normally wouldn't get to do on a school day. The weather's been perfect."

For a year, Julie Jones, FCS program assistant, taught kids in preschool through third grade using LEAP (Literacy, Eating and Activities Program), which was developed by the Health Education through Extension Leadership program. Every month a lesson, healthy snack and activity was conducted.

Students in the intermediate grades were enrolled in 4-H youth development where agent Kellie Arnold utilized both state and national health curricula. The national Extension health curriculum was also used by Jones with middle school students.

In the fall, the adults were signed up in the Get Moving Kentucky! Program with prizes awarded for those with the most activity.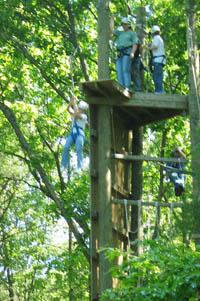 "We feel like we've done a great job with the kids," Kelley said. "If we could have made a little more headway, it would have been with the adults. But the seeds have been planted. We were really fortunate to be able to spend some time as opposed to going in teaching a class and going out. It was reinforced month after month."

"We had parents coming up to us saying 'my kid wants this,' things such as sweet potato pudding and carrots dipped in yogurt – things that they'd never tried before," Jones said. "I think they really gained a lot of knowledge on foods and on different activities.
"The teachers have been supportive and I think it is important for the kids," she said. "The younger ones have tried foods they've never tried and the older ones are realizing there are all kinds of different activities besides organized sports."

Peggy Stirsman, curriculum coordinator for West Hopkins, said the Extension office has always been a friend of the school. When they found out there was the opportunity for the yearlong partnership; the school wanted that for their students.

"With the push for wellness, it just seemed to fit," she said. "We've been very happy with it. All of our students have had an opportunity to participate."

While the grant has been used up, Kelley said the Extension service will still provide some nutrition and health education in the schools using the LEAP program.

"We would like to continue to provide something in our school," Stirsman said.
Contact:
Nancy Kelley, 270-821-3650