2013 Woodland Owners Short Course to be held in conjunction with Kentucky Wood Expo
2013 Woodland Owners Short Course to be held in conjunction with Kentucky Wood Expo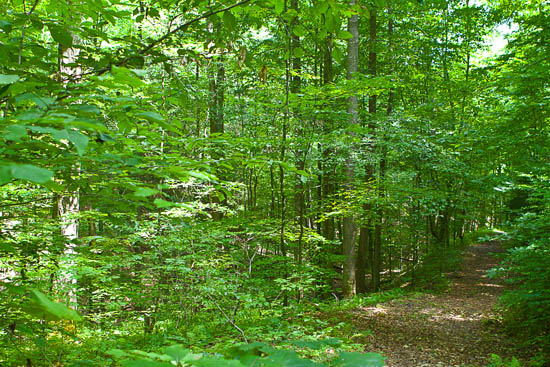 LEXINGTON, Ky.—
Both novice and experienced woodland owners will learn how to attract more wildlife, produce a cash timber crop and provide a place for family recreation at one of the Woodland Owners Short Courses offered in each of the three geographical regions of Kentucky. For the first time, one of the regional programs will be held in conjunction with the Kentucky Wood Expo.
Many woodland owners are not aware of the wide variety of organizations and programs available to help them care for their woodlands. The 2013 Woodland Owners Short Course will connect landowners with professionals who can help them achieve their particular management goals. Participants in the Central Region Woodland Owners Short Course can also attend the Kentucky Wood Expo, where they will have the opportunity to view equipment demonstrations and meet hardwood industry professionals. Expo activities will include programs and exhibitors targeted toward forest landowners, arborists and finished wood processing, as well as lumberjack, knuckleboom loader and skidder competitions. There will be something for the entire family, with plenty of food, local entertainment, a silent auction and a children's educational program.
More than 10 Kentucky forestry, wildlife and natural resource organizations work in partnership to plan, conduct and evaluate the one-day short course. Local planning committees have developed the regional programs with local needs in mind, so each region's course will vary slightly from the others.
In the West Region, the course is scheduled for Aug. 10 at the Daviess County Cooperative Extension office in Owensboro. From there, transportation to the Felix Barker Tree Farm will be provided. The East Region course is scheduled for Aug. 17 at the Lewis County Cooperative Extension office in Vanceburg, with a trip planned to the Philip Traxler Tree Farm. In Central Kentucky, the course will take place Sept. 21 at Masterson Station Park Fairgrounds on Leestown Road in Lexington. The Central Region field site will be the Masterson Station Reforest the Bluegrass site.
Concurrent tracks target either the seasoned woodland owner or those who are just beginning. Landowners who have recently acquired woodlands or who are beginning to think about management and pondering their options should enroll in the Green Track, while more experienced woodland managers can register in the Gold Track. Past graduates of the short course will also find valuable information by returning to the course through the Gold Track.
Depending on the track and the region, sessions will cover such topics as tree identification; tree planting; crop tree management; management of storm-damaged timber; wildlife habitat improvements; woodland certification; timber harvesting and sales; Ag Water Quality Plans and cost share programs; timber theft and trespass; hunting leases; financial assistance and threats to forest health including the emerald ash borer and other forest pests.
Each short course begins at 9 a.m. local time and concludes around 4:30 p.m. Lunch is included. Preregistration is strongly encouraged as space is limited. East and West Region sessions are $20 for individuals, $30 for couples. The Central Region short course is $25 for individuals or $40 for couples, which includes the Kentucky Wood Expo advance-order ticket.
Those planning to attend the East or West Region short course are encouraged to attend the wood expo and join the Central Region participants for the equipment demonstrations. Advance tickets can be ordered for $5 each when registering for the short course.
The 2013 Woodland Owners Short Course is the result of a partnership between UK Cooperative Extension Service, UK Department of Forestry, Kentucky Division of Forestry, Kentucky Department of Fish and Wildlife Resources, Kentucky State University, Kentucky Tree Farm Committee, Kentucky Woodland Owners Association, Kentucky Natural Resources Conservation Service, Kentucky Forest Industries Association, Practicing Foresters Institute, Sustainable Forestry Initiative Implementation Committee and the Kentucky Chapter of the Association of Consulting Foresters of America Inc.
For a detailed listing of course topics at each location and to register, visit the short course website at http://www.ca.uky.edu/forestryextension/WOSC.php. Registration can also be done via phone by calling 859-257-7597.
---
Environment
Events
Extension
Forestry
Sustainability