2022 Chellgren Center fellows include UK CAFE students
2022 Chellgren Center fellows include UK CAFE students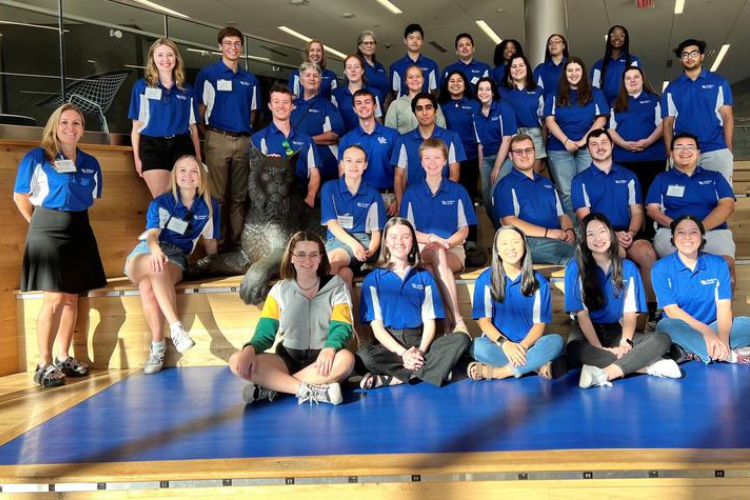 Lexington, Ky—
The University of Kentucky Chellgren Center for Undergraduate Excellence is honored to announce the 2022 class of Chellgren Student Fellows and welcome the new director and endowed chair, Isabel C. Escobar, Ph.D.
The Chellgren Center Student Fellows Program aligns with the university's goal of cultivating undergraduate excellence. By providing experiences that go beyond the classroom, students become prepared for the next phase of their career, whether it be graduate school, a position in their field or a gap year dedicated to service. Created in 2005 with a gift from Paul Chellgren, a UK graduate, and his family, the Chellgren Center creates unique educational opportunities for outstanding undergraduate students and professors at the university. Chellgren's commitment to undergraduate education at UK has impacted thousands by creating countless number of opportunities for UK students, staff and faculty.
In addition to the new class, the Chellgren Center has a new director this year after the recent retirement of long-standing chair, Phil Kraemer. Isabel Escobar took the helm on July 1 after an internal search process. Escobar has been at UK since 2015 and has served in several leadership roles including associate director of the Center of Membrane Sciences and co-director of the College of Engineering Undergraduate Research Scholars Program. Escobar joins C. Lynn Hiler, program coordinator for the center, and Pat Whitlow and Emily Sallee of the Office of Nationally Competitive Awards, to bring enriching programs to all Chellows and award applicants.
"I am honored to have been selected to be the director of the Chellgren Center for Undergraduate Excellence," Escobar said. "I hope that I can inspire fellows and all associated with the center to make a positive impact on the world."
The Chellgren Center would like to extend a warm thank you to Luke Bradley for taking the reins from January to June during our leadership transition. 
The Chellgren Center will be hosting an open house 11:30 a.m.-1 p.m. Tuesday, Sept. 27, on the second floor of Funkhouser Building (Rooms 224, 211 and 219/221). Stop by to welcome the new class of fellows, meet Escobar and learn more about the Chellgren Center, Office of Nationally Competitive Awards and campus partner the Office of Undergraduate Research. Please RSVP if you plan to join. 
The 2022-23 Chellgren Student Fellows are:
College of Agriculture, Food and Environment
Ginny Lyle
Lizzie Rice
Gage Tucker
College of Arts and Sciences
Ella Brown-Terry
Kailey Cain
Rohan Desai
Rachel Hwang
Cierra Ledford
Sandy Nino
Elliana Sanchez
Anna Stockstill
Connor Stuart
Emma Thyne
Madison Wade
Gatton College of Business and Economics
Faham Hossain
Joshua Plain
College of Communication and Information
College of Education
College of Engineering
James Chen
Tiffany Clark
Nicholas Coffman
Elizabeth Corry
Asa O'Neal
Andres Phillips
Coleman Reed
College of Fine Arts
Pascalle Le Roy
Emmylou Tidwell
College of Health Sciences
College of Public Health
The Chellgren Student Fellows Program is supported by the Chellgren Center for Undergraduate Excellence within the Office of the Provost. To learn more about the Chellgren Center for Undergraduate Excellence, please visit www.uky.edu/chellgren/.
---
Awards