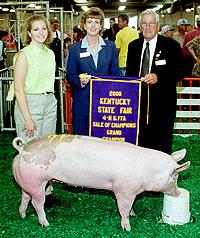 4-H livestock exhibitors Donna Hancock, Pulaski County, and Tyler Halley, Jessamine County, took top honors in the market hog and market steer divisions, respectively, in the 2000 Kentucky State Fair's 4-H and FFA livestock show.
For Donna, winning championships is a familiar feeling; she made history last year when she exhibited the grand champion market lamb and grand champion market hog. This year, she only nabbed the market hog top spot, but she was not at all disappointed.
"I feel very privileged to win this again," Donna said. "We knew he was good from the start. He's one of the best hogs I've had."
Donna is a high school junior from Eubank. She's been a 4-H member for seven years, showing hogs and lambs. Her family has raised registered Hampshire ewes for 13 years. Her parents are Mike and Carole Hancock and her 4-H agent is Tad Campbell.
Ed and Pat Jenkins, Louisville, bought Donna's hog for $12,500 at the Sale of Champions. Another 4-Her, Susan Lee of Clark County, exhibited the reserve grand champion market hog. Al Schneider, Blue Grass Coca Cola and the Kentucky Corn Growers Association paid $11,000 for Susan's hog at the sale.
Tyler Halley's story is quite different. This is the 10-year-old's first year in 4-H and his first year to show a steer. He comes from a long line of champions though; his mother Regina White showed the grand champion steer in 1983. Regina's brother and sister also won the award after her
"My mom, my uncle and my aunt all showed steers, so I wanted to show them too," Halley said. "It's not that hard, but one thing I have learned is that you are beside a steer, don't make a big move or you'll get kicked."
Tyler, a fifth grader at Rosenwald-Dunbar Elementary in Nicholasville, and his 1,282 pound steer also won prizes at the Jessamine County Fair in July. His father is Samuel Hampton Halley, Lexington. His grandfather, Joe White, Lexington, also has been very supportive of Tyler's livestock exhibiting interests. Tyler's 4-H agent is Amber Branstetter. His steer was purchased by Meijer stores of Louisville for $22,500.
Donna and Tyler and Susan's animals brought record purchase prices at the Sale of Champions, where Miss America, Heather French, was the guest of honor. Other guests of note were Governor Paul Patton, Lt. Gov. Steve Henry and Agriculture Commissioner Billy Ray Smith.