54th Farm-City Field Day going green
54th Farm-City Field Day going green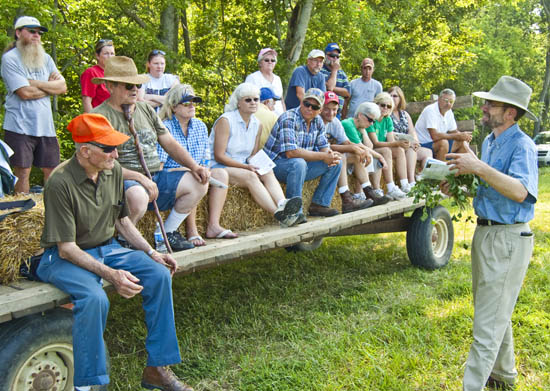 Published on Jul. 6, 2012
LEXINGTON, Ky.—
No trash for the landfill. That's the goal set by organizers of the 54th Annual Farm-City Field Day July 12 on Sherman and Gail Peyton's farm in Franklin County.
Hosted by University of Kentucky Cooperative Extension and the College of Agriculture, the field day will include educational farm tours in the morning, followed by a rib-eye steak lunch. Kim Cowherd, Franklin County horticulture extension agent, said they plan to use commercially compostable utensils, plates and cups, as well as dual stream waste bins. Teenagers from the local high schools' environmental clubs, as well as members of 4-H and FFA will be present to assist attendees in recycling. Bluegrass PRIDE and local waste coordinators will also be involved in the effort.
"Before, 100 percent of the waste from lunch and the event went to the landfill," Cowherd said. "This year we will try to get as close to 0 percent as we can."
Farm tours, which will run between 9 and 11 a.m. EDT, will include heifer development and artificial insemination, pondweed management, wildlife plantings, Roundup ready alfalfa, woodland management and the emerald ash borer, and high tensile woven wire.
There will be booths, displays and give-a-ways throughout the day.
The Peyton farm is located at 739 Colston Lane, Frankfort. Free tickets for the event are available at Franklin County Farm Bureau offices.
The Farm-City Field Day typically draws more than 500 people each year. This year's event is sponsored by Frankfort/Franklin County Chamber of Commerce, Franklin County Conservation District, Franklin County office of UK Cooperative Extension and Franklin County Farm Bureau.
For more information, contact the Franklin County Extension office at 502-695-9035.
---
Crops
Events
Extension
Forestry
Livestock
Sustainability