After the flood, Bucket Brigade helps Knott County
After the flood, Bucket Brigade helps Knott County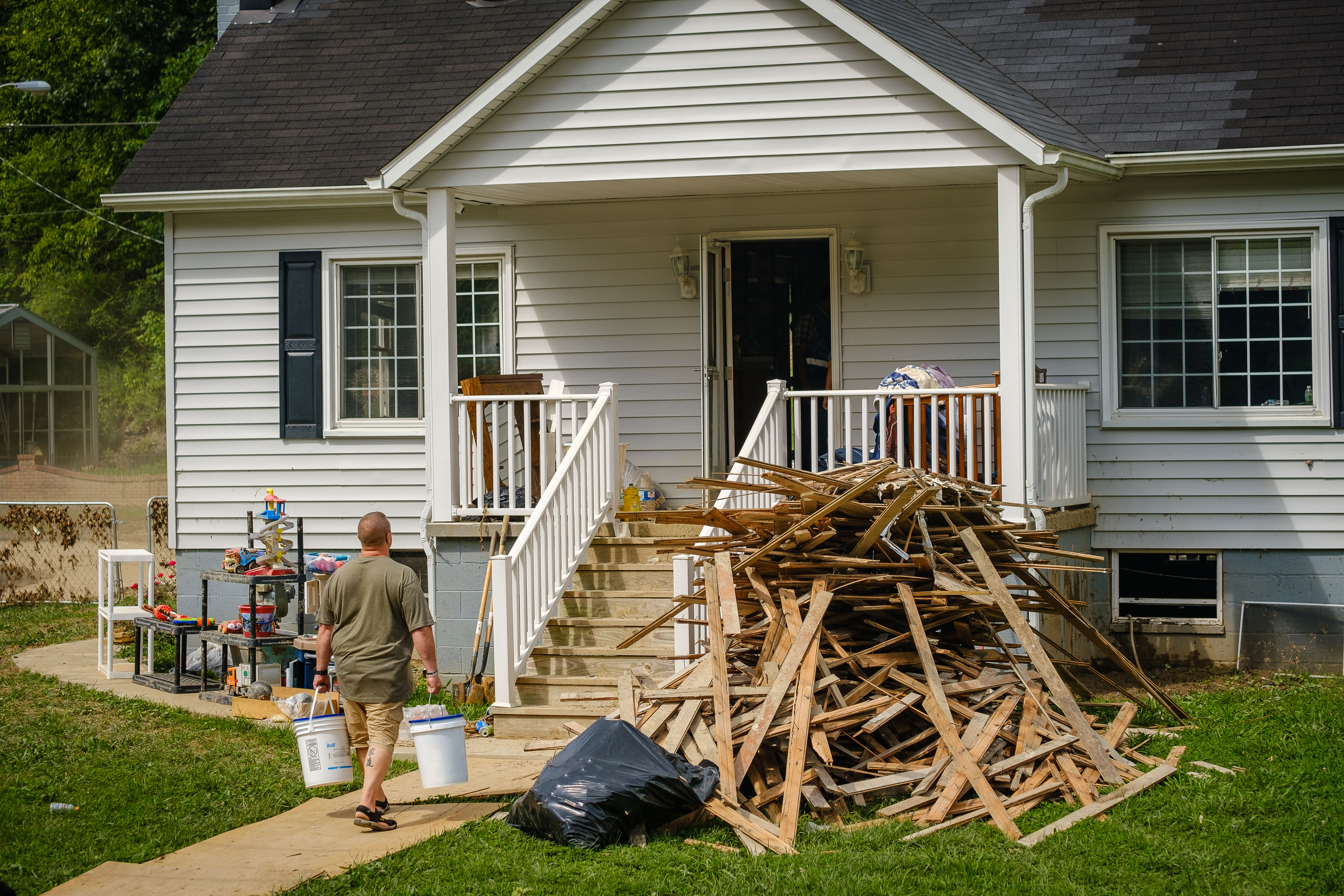 HINDMAN, Ky.—
On the Sunday evening after historic flooding in Eastern Kentucky, Lindie Huffman sat in her Williamstown, Kentucky home with a heavy heart. She was brainstorming ways to help her counterparts who were going through hell in high water. 
"For anyone who knows the little town of Falmouth, we were hit by a flood in 1997, so this hits close to home," said Huffman, University of Kentucky Cooperative Extension agent for agriculture and natural resources in Pendleton County. "I was thinking, 'what can I do to make a small impact,' and be as specific as possible since there's a lot of resources coming into the flooded counties right now. Then I thought about five-gallon buckets. Buckets are as handy as a pocket on a shirt."
Huffman texted her coworkers and told them her idea to fill buckets with supplies for flood victims. On Monday morning, there were two buckets in a trailer. Huffman gathered volunteers and began visiting Pendleton County churches and businesses with flyers about the items they wanted to collect.
"We had three asks," she said. "Will you share our flyer, can you give us a discount if people shop here for supplies and do you want to donate? Within four days, we had collected more than 150 buckets. I sent a message to the Knott County Extension office through Facebook and here we are."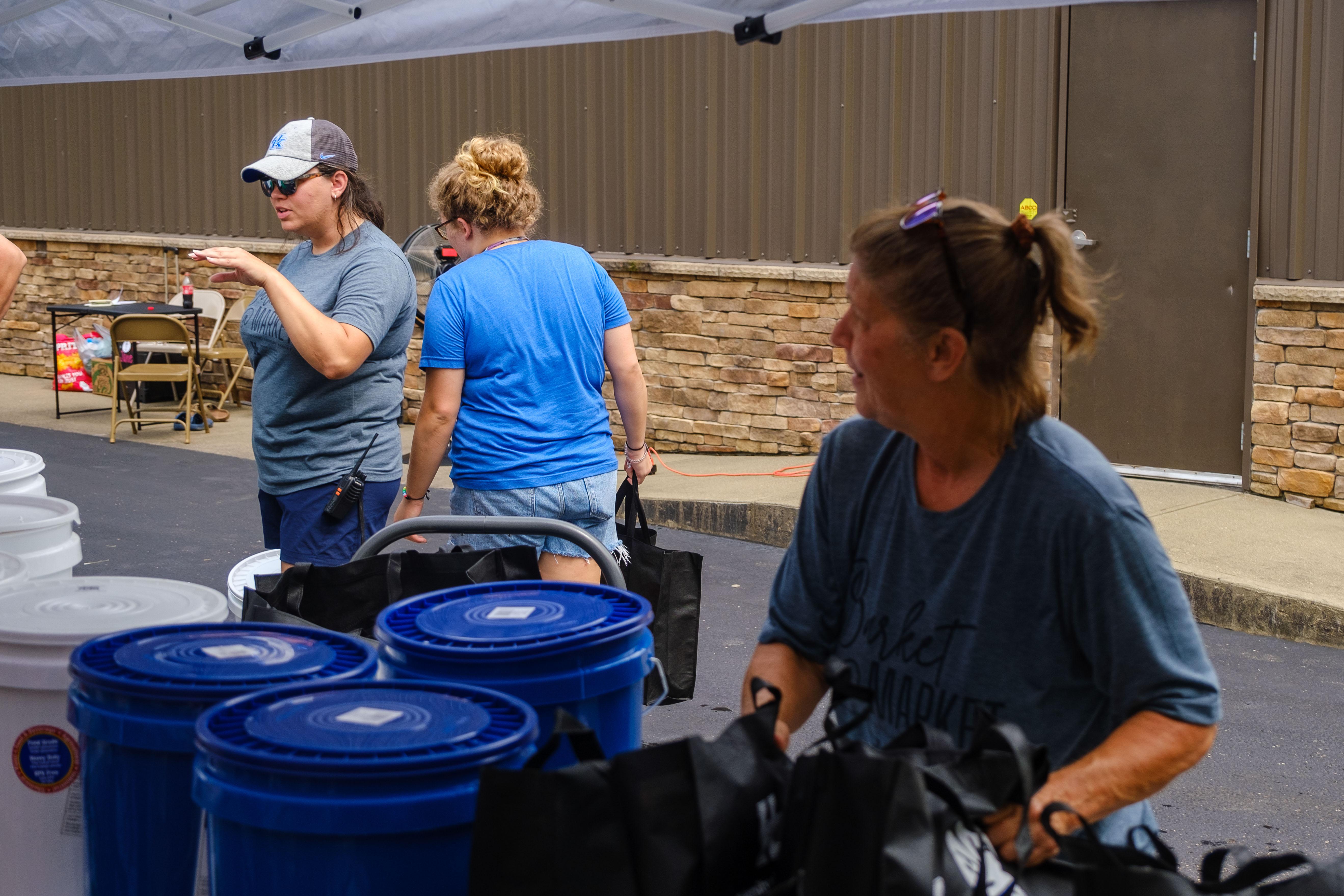 The person Huffman contacted was Lorie Adams, the new UK extension agent for family and consumer sciences in Knott County. Adams lives in Leslie County and the flooding did not affect her home, so she was able to spring into action and be the first agent on the ground, even though she's only been in the county for about a month.
"I didn't even know who she was," Adams said. "She wanted to bring buckets, so I said yes, please come."
With no running water and the few local lodging spots full, Huffman and the volunteers, mostly from the Pendleton County Farmers' Market, camped out in tents outside the Knott County Extension office. Huffman gave the team the name "Bucket Brigade." The brigade of volunteers brought with them 156 five-gallon buckets filled with cleaning supplies and personal hygiene products. They also had enough to fill a tote bag for each recipient with paper products, water and a quilt square with a prayer and message of hope for each recipient.
"The pocket prayer quilts were done by one of our farmers' market members," Huffman said. "It's just a little token, a comfort item, for folks to carry with them and know that someone is thinking about them. It's a tangible item they can hold in their hands and hopefully they will feel the love that went into making them."
While Huffman was mobilizing volunteers, Adams received a call from the Jessamine County Beef Cattle Association. They wanted to come to Knott County and feed people a hot meal. The Kentucky Cattlemen's Association provided enough beef patties and hot dogs for nearly 1,000 meals.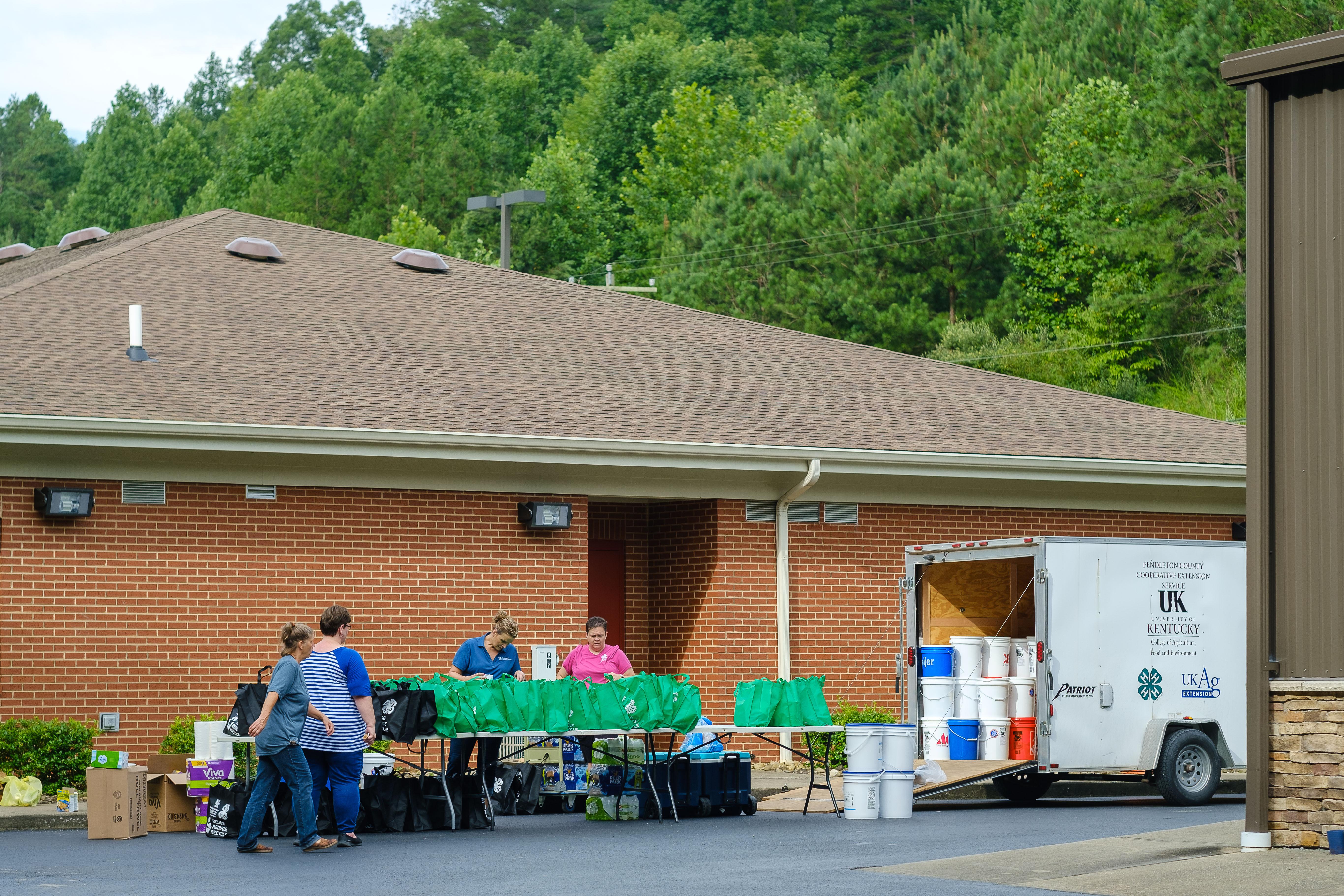 Families that could get to the Knott County Extension office drove through a line to receive a bucket, a bag and a hot meal. But the flood left many people in isolation. It cut them off from the world for more than a week and they had not eaten a hot meal during that time. Huffman and Adams found a way to deliver more than 150 hot meals to isolated areas like Caney, Hollybush and Frogtown.
"We were one of the hardest hit counties. We've had the most deaths and it's taking us longer to get together and begin recovering," Adams explained. "I've been loading up my vehicle with supplies and going out to check on some of the more remote citizens. I talk to them about cleaning up and leave them as much information as I can. Soon we'll be able to allow more volunteers to come in and help and we'll need it."
Adams said it took several days for Knott Countians to come out of their homes, if they still had homes, after the flood. There was no power, no internet, no phone service and still no water. But in the midst of it all, she continues to come to the county each day to work and help in any way she can.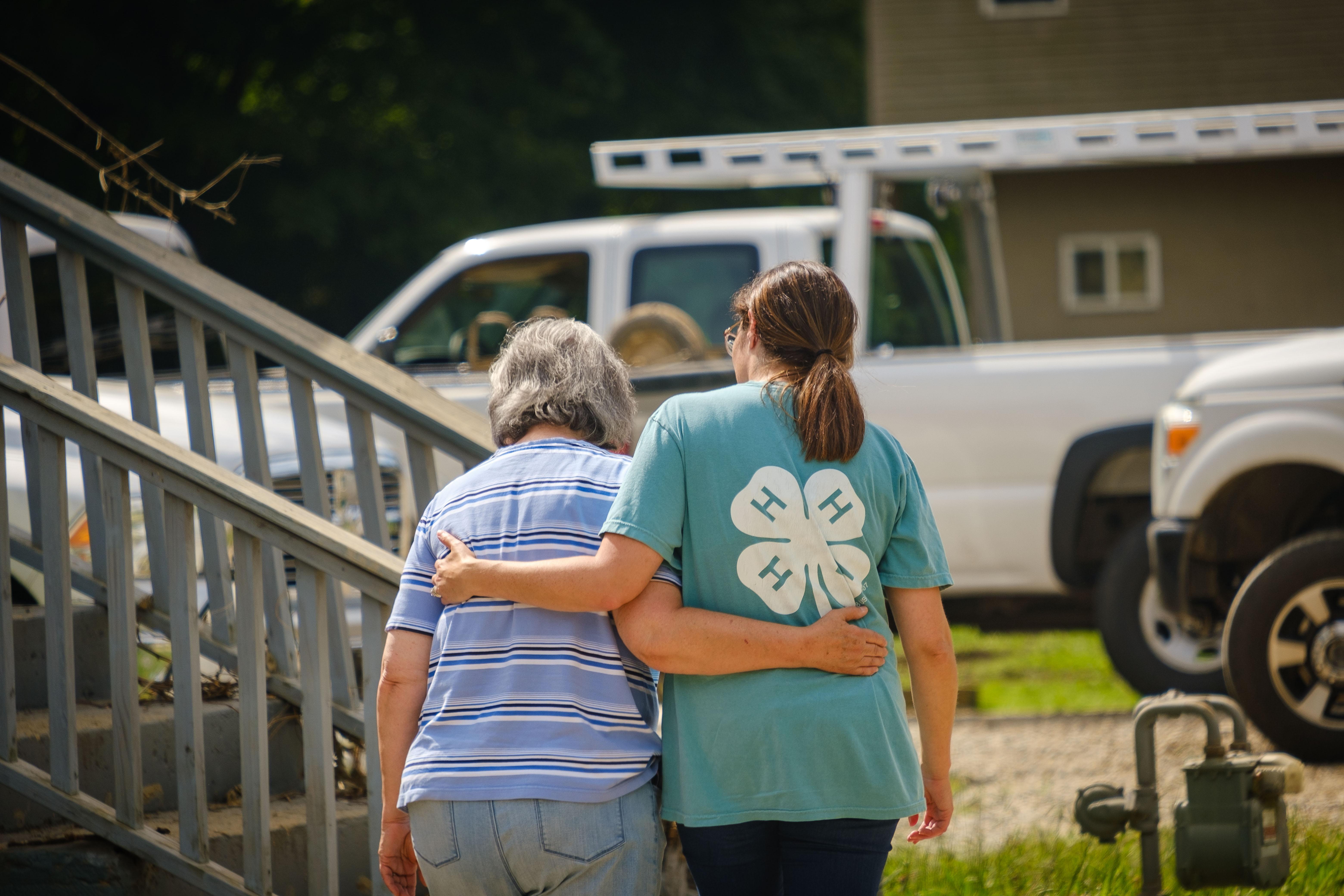 "Extension is all about meeting the needs of the community," Adams said. "Some people wanted to try and save their gardens. But if the plants were under flood water, they can't. It kills you having to tell them that. I just try to support each person I come into contact with. It doesn't matter what their needs were before this flood happened, it's about what they need right now, and that is what we are working on. We'll be in this for a while."
An arm of the UK College of Agriculture, Food and Environment, the UK Cooperative Extension Service provides practical education you can trust to help people, businesses, and communities solve problems, develop skills, and build a better future. 
---
Community Development
Extension
Family Consumer Sciences
Weather