Ag College Employees Help Feed Families For July 4th
Ag College Employees Help Feed Families For July 4th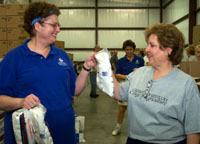 LEXINGTON, Ky.—
Helping feed people is what agriculture is all about. It's only natural then for employees of the University of Kentucky College of Agriculture to volunteer for a community effort called "Freedom From Hunger."
"It allows me to give back to my community," said Jean Smith, Extension staff assistant in UK's department of forestry who worked alongside volunteers from UK and other local companies on a recent Saturday morning in Lexington.
"Freedom From Hunger" is a holiday distribution program in Fayette County that ensures selected families can celebrate July 4th with a traditional picnic meal. This is the third year for the program sponsored by God's Pantry Food Bank.
"Our volunteers help us assemble all the dry goods items such as mustard, ketchup, and cans of baked beans," said Marian Blanchard, executive director of God's Pantry. "Fresh products such as apples, oranges, onions, hamburger meat, hotdogs and buns will be added later."
About 20 College of Agriculture employees joined with other volunteers to place food items in boxes as each container moved along an assembly line. Called "Freedom Baskets," the food boxes will serve more than 2,200 families in central Kentucky.
"These families have been referred to us by 49 different social service agencies," Blanchard said.
Funding for the holiday food boxes comes from corporations and individuals. The boxes help extend the summer food supply to low-income households, according to Pam Sigler, UK Extension associate for family and consumer science.
"With school out, the children are at home, and children in rural areas in particular are not always able to access summer feeding programs due to lack of transportation," she said.
The College of Agriculture volunteers wanted to show support for these families.
"It's a lot of work, but it gives me an appreciation for what others in the community do and is a very rewarding experience," said Patty Ray, UK agricultural communications graphic artist, who was joined in the effort by her husband Paul.
"I just hate the thought of anyone being hungry, and I thought this was a good way to make sure our citizens had a meal for the July 4th holiday," said Judy McCracken, administrative support associate for UK's forestry department. "I feel wonderful about doing it, and will probably volunteer again next year."