Winning is becoming a habit for the quarter scale tractor student design team in the University of Kentucky's department of Biosystems and Agricultural Engineering.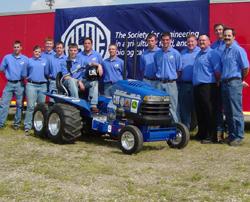 For the second year in a row the team earned third-place honors at the International Quarter Scale Tractor Design competition in East Moline, Illinois.  Last year the team tied for third, but this year the honor is UK's alone.
"When you consider that more than 30 schools compete in this event the fact that our UK team earned third is quite an accomplishment," said Scott Shearer, faculty adviser and UK agricultural engineer. 
The small but powerful tractors are completely designed and built by students.  All teams must use the same kind of engine and tires. Tractors may be either two-wheel or four-wheel drive.  UK's tractor features tandem four-wheel drive, steer by wire, and a controller area network (CAN) with personal digital assistant (PDA) user interface.
The competition, which is sponsored by the American Society of Agricultural Engineers, tests entrants in several categories such as tractor maneuverability, design and pulling performance.  Teams must also prepare an oral presentation and written report.
The competition's objective is to involve students in all aspects of developing a product for the marketplace.
"This gives us practical, real-world experience with product development from design through prototype fabrication and testing," said team co-captain Brandon McDonald, a UK senior.
Team members include Evan Conrad, Matt Darr, Blair Duguid, Travis Dykes, Tim Greis, Spencer Guinn, Jeremy Hudson, Erin Kirkpatrick, Brian Luck, Matt Peake, Charlie Sorrell, Tony Stoeppel, William Sympson, Jason Ward and team co-captains Ryan Figgins and Brandon McDonald.  Faculty advisers include Steve Higgins, Scott Shearer, Tim Smith, Tim Stombaugh and Larry Wells.
First place honors this year went to the Kansas State University team.  The design team from Universite Laval in Canada earned second place.
Contact:
Scott Shearer, 859-257-3000, ext. 218