Ann Vail named College of Social Work Interim Dean
Ann Vail named College of Social Work Interim Dean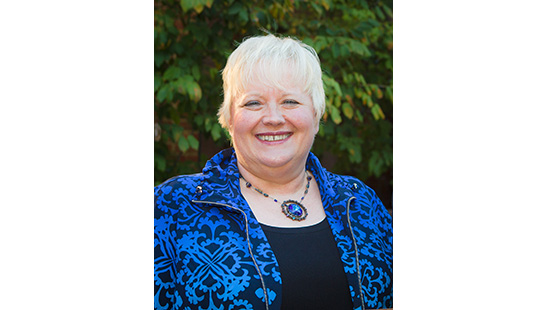 University of Kentucky Provost Tim Tracy announced that Ann Vail, director of the School of Human Environmental Sciences (HES), part of the UK College of Agriculture, Food and Environment, has been named interim dean of the UK College of Social Work.
Professor Vail, who also is assistant director of Family and Consumer Sciences Extension, is a distinguished educator and researcher who received the American Association of Family and Consumer Sciences (AAFCS) Leader Award in 2006.
Prior to coming to Kentucky she headed two departments at New Mexico State University, Family and Consumer Sciences and Extension Home Economics. Vail previously held faculty positions at Iowa State University, the University of Idaho, and The Ohio State University. She earned her Ph.D. and M.S. degrees from Ohio State and her bachelor's degree from Colorado State University in Family and Consumer Sciences Education.
Vail is the author of several books, numerous refereed publications, abstracts, proceedings and technical reports. Her books include: "Taking Sides: Clashing Views on Controversial Issues in Family and Personal Relationships," an issues-based book used in college courses across the country; "Taking Sides Instructors Guide"; and an AAFCS yearbook titled, "Leadership for Change: National Standards for Family and Consumer Sciences Education."
"I am pleased that Dr. Vail has accepted this position as she brings a wealth of administrative skills and scholarship to the position," said Tracy. "Her extensive experience in working with families through the School of Human Environmental Sciences is a perfect complement to the outstanding work of the College of Social Work in helping families, as well."
Vail, who will continue to serve as director of HES while she assumes her new responsibilities, is principal investigator on the following grants:
·         National Coordination Center for Regional Nutrition Education Centers of Excellence
·         UK Supplemental Nutrition Assistance Program Education
·         Collaborative Environment Approaches to Reduce Obesity Disparities in Kentucky
·         Rural Child Poverty Nutrition Center 
Vail holds membership in three honor societies, Phi Kappa Phi, Kappa Omicron Nu, and Phi Upsilon Omicron.
"I am honored to join with the outstanding faculty and staff in the UK College of Social Work," said Vail. "The college has a proud tradition of helping to find solutions to difficult societal problems as well as preparing the next generation of social work professionals."
James P. "Ike" Adams, Jr., dean of the College of Social Work for the past six years, will serve as special assistant to the vice president for Student Affairs working with UK's Living Learning Programs.
---
Family Consumer Sciences