Annual career fair unites college students, equine industry
Annual career fair unites college students, equine industry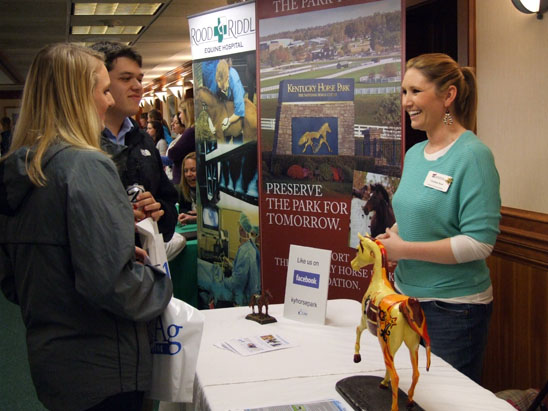 LEXINGTON, Ky.—
The University of Kentucky Ag Equine Programs will host its eighth annual UK Equine Career and Opportunity Fair from 4:30 to 7 p.m. EST March 1 at Spindletop Hall in Lexington.
The free event provides college students the chance to meet prospective equine industry employers and to learn about potential volunteer, internship and part-time and full-time employment opportunities. In addition to booths from area equine businesses, attendees can participate in sessions led by industry professionals, who will offer tips and one-on-one career advice.
"I always love this event," said Elizabeth LaBonty, lecturer and internship coordinator in UK's equine science and management undergraduate degree program. LaBonty's equine careers class is planning the event. "The students work so hard putting it together, and the interaction between students and the industry is always rewarding to watch."
Informational sessions will allow participants to explore opportunities related to graduate school, careers in the Thoroughbred and Sport Horse industries as well as marketing and business careers. Food and drinks will be provided, as will a shuttle service to and from campus for UK students.
"The UK Equine Career and Opportunity Fair is an outstanding opportunity for students to network and learn about the vast array of opportunities available within the equine industry. There will also be focused career track sessions led by several industry experts," said Olivia Lowe, a junior equine science and management student who is helping plan the event.
Some of the confirmed participants include Central Kentucky Riding For Hope, Hagyard Equine Medical Institute, Keeneland, Kentucky Equine Management Internship, Kentucky Equine Humane Center, Kentucky Horse Park, Kentucky Quarter Horse Association, Life Adventure Center of the Bluegrass, Maker's Mark Secretariat Center, New Vocations, Rood and Riddle Equine Hospital, UK Ag Equine Programs, UK Animal and Food Science Graduate Association and the United States Equestrian Federation.
Students and potential employers who would like more information about the UK Equine Career and Opportunity Fair may contact Elizabeth LaBonty at 859-257-2226 or email equine@uky.edu. There is also an event Facebook page, University of Kentucky Equine Career Fair, which provides up-to-date information. For more information about UK Ag Equine Programs, visit http://www2.ca.uky.edu/equine/.
---
Equine
Events