Annual UK Equine Career and Opportunity Fair showcases industry professions for college students
Annual UK Equine Career and Opportunity Fair showcases industry professions for college students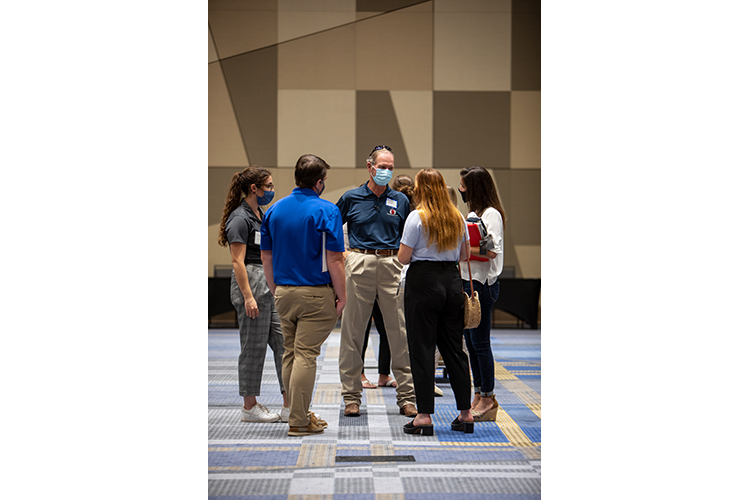 LEXINGTON, Ky.—
University of Kentucky Ag Equine Programs recently hosted its annual Career and Opportunity Fair to more than 170 current and future college students from 11 different academic programs. Over 35 employers and 80 recruiters were on hand to share job, internship, volunteer and networking opportunities. 
New this year, a prospective student component was added to allow high school students the opportunity to hear from equine degree programs and visit the fair to see the various job and career path options that exist within the industry. Students and their families had the chance to speak with equine programs from UK, Asbury University, Bluegrass Community and Technical College, the Kentucky Equine Management Internship program, Midway University, Morehead State University and the University of Louisville, who was also the food and beverage sponsor for the event. 
"I was very pleased with this year's Career and Opportunity Fair. We returned to an in-person event, expanded the format and participants, and were able to successfully showcase the myriad of opportunities available in the equine industry," said Savannah Robin, equine internship coordinator and event organizer. "Employers had very positive remarks in regard to student engagement, relationship building and professionalism. Students also provided positive feedback in that the fair was a great experience to network and explore future opportunities." 
Equine businesses that participated included Ardent Animal Health, Central Kentucky Riding for Hope, Claiborne Farm, Coolmore America, Godolphin LLC, Hagyard Equine Medical Institute, Hooves of Hope Equestrian Center Inc., Justin's Place, Keeneland Association Inc., Kentucky Equine Research, Lane's End Farm, Maker's Mark Secretariat Center, McMahon and Hill Bloodstock LLC, Park Equine Hospital, Paso Fino Horse Association, Rood & Riddle Equine Hospital, Split Rock Jumping Tour, Spy Coast Farm, Taylor Made Sales Agency Inc., The Jockey Club, Three Chimneys Farm, UK Department of Veterinary Science, Wickliffe Pharmaceuticals Inc. and WinStar Farm. 
"Emphasis on 'Career and Opportunity' is central to this important annual event," said James MacLeod, professor of veterinary science and director of UK Ag Equine Programs. "The substance and scope of equine-related career paths continue to grow, and this was an exciting convergence of employers, current equine science students, prospective equine science students and educational organizations." 
Next year's event is scheduled for Sept. 29. More information about this and other opportunities can be found on UK Ag Equine Programs' website: https://equine.ca.uky.edu/.  
---
Equine
Events
Extension