Aquaculture workshops cover basics and then some
Aquaculture workshops cover basics and then some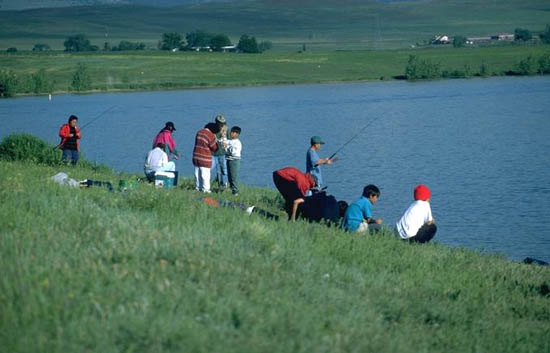 LEXINGTON, Ky.—
Across the globe, pond production is the most common form of aquaculture. For those thinking about venturing into such a production system or those who want to brush up skills, Kentucky Cooperative Extension will offer two winter workshops, Basic Aquaculture and Aquaculture Production Systems.
"Both workshops should give attendees a solid grasp about what can be done with properly constructed, well-managed ponds, as well as several other production technologies used in aquaculture," said William Wurts, Kentucky State University senior state specialist for aquaculture.
Welcome and sign-in for Aquaculture Basics, at the University of Kentucky Research and Education Center in Princeton, will begin at 8:45 a.m. CT Feb. 16, with presentations starting at 9 a.m. and continuing until noon. Speakers will include Wurts, Forrest Wynne, state specialist for aquaculture in Graves County, and Bob Durborow, KSU professor and state specialist for aquaculture.
Wurts will speak about fundamental requirements for successful pond aquaculture, providing attendees with a basic understanding about the relationship among pond productivity, feeding and aeration. He will also discuss essential aspects of water quality. Wynne will discuss fee fishing or pay lake management, including regulations, fish care, stocking rates, pond construction, water quality and aquatic plant management, all of which, he said, are important for a successful operation. He will also discuss pond management for sport fishing.
"Good facility management is essential for customer satisfaction, and customer satisfaction is essential for success," he said.
Durborow will cover the prevention and control of fish diseases.
 Sign-in for Aquaculture Production Systems, at the KSU Aquaculture Research Center in Frankfort, begins at 8:15 a.m. ET March 2. Presentations begin at 8:30 a.m., continuing until noon. Speakers will include Wurts, Wynne, Durborow, KSU researcher Shawn Coyle and Charlie Shultz, a KSU graduate student in aquaculture. Shultz is originally from St. Croix, where he researched aquaponics for 13 years at the University of the Virgin Islands. Aquaponics involve the production of edible plants in combination with fish or other aquatic animals.
Wurts will discuss the essentials of pond production, as well as the use of airlift pumps. Wynne will provide a basic overview of fish production in cages, net pens and flow-through raceway systems, as well as addressing facility site selection, water quality, fish species, diseases and other fish culture issues. Coyle will cover recirculating aquaculture systems, which are the newest systems in fish farming production.
"While the costs associated with constructing recirculating aquaculture systems are typically higher than either pond or cage culture, when managed properly, these systems can produce fish on a year-round basis and can be sited in close proximity to urban markets," he said.
Durborow will cover the prevention and control of fish disease. He will also present an update on Aquaflor, the newest medicated feed on the market.
Kentucky Cooperative Extension will also offer an aquatic plant and algae-control training program from 10 a.m. to 4 p.m. CT Feb. 15 in Princeton and March 1 ET at the KSU Aquaculture Research Center in Frankfort. Topics to be discussed include aquatic plant and algae identification, methods of control and herbicide and algaecide use. The program will emphasize proper chemical selection, application techniques, applicator safety and record keeping.
The Kentucky Department of Agriculture has approved this aquatic weed control program for 3 specific hours for category 5 credit and 2 general hours for categories 10 and 12.
All workshops are free and open to the public. Preregistration is not required, but to be assured of receiving workshop printed materials, those wishing to attend should contact either Wurts at 270-365-7541, ext. 200 or wwurts@uky.edu or Wynne at 270-247-2334 or fwynne@email.uky.edu.
---
Events
Extension