The Arboretum celebrates Earth Month with annual Party for the Planet
The Arboretum celebrates Earth Month with annual Party for the Planet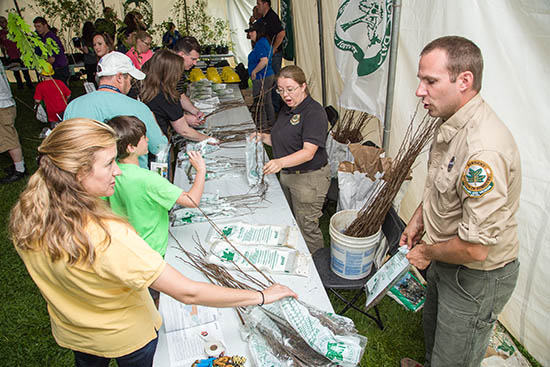 LEXINGTON, Ky.—
April is Earth Month, and this year The Arboretum, State Botanical Garden of Kentucky, will be cultivating connections all month long through their annual celebration, Party for the Planet. With the support of presenting sponsor Kentucky Utilities, the annual party offers special activities focused on environmental topics and is designed to help adults and children connect to nature.
Bring the kids and get a start on spring in the Kentucky Children's Garden's Celebrating the Seasons Series from 10 a.m. to 1 p.m. EDT Saturday, April 7. The entire family can enjoy a fun, educational experience, as they visit booths that include demonstrations, crafts and plant giveaways. Regular admission applies: $3 per person or $10 for a family of up to five people. The planting of the official Arbor Day tree, a Magnolia acuminata, will take place at 11 a.m. The Magnolia acuminata, native to the Eastern United States, is commonly known as a cucumber magnolia or blue magnolia. It is one of the largest and most cold hardy of the genus.
The Cultivating Connections workshop series, the first three of which are suggested for ages 13 and up, begins 5:30 to 7 p.m. EDT April 5 and continues each Thursday throughout April at the same time. Preregistration is required, with a suggested donation of $3 per person or $5 per family. Each session is limited to 30 people, with the exception of the April 26 workshop, which is limited to 75 participants. Sessions include:
·       April 5: Rooted in Soil: Connections between Plants and the Landforms Beneath Them. University of Kentucky College of Agriculture, Food and Environment Dean Emeritus Scott Smith; Robert Paratley, UK Department of Forestry and Natural Resources Herbarium curator, and Molly Davis, The Arboretum director, will discuss how soils are created and how three of the seven soil types in Kentucky provide a foundation for plants that require very different environments.
·       April 12: The Good, the Bad and the Ugly: Plant and Wildlife Connections. The Arboretum's horticulturist, Jesse Dahl, will lead a workshop on the many, often amazing ways animals and insects interact with plants.
·       April 19: From Pawpaws to Parasites: Connections in the Plant Kingdom. Arborist Dave Leonard and The Arboretum curator and native plants collection manager Emily Ellingson will give an overview of the various ways trees and plants are connected, from the obvious to the obscure. The workshop will culminate outdoors to see connections in action.
·       April 26: Wonder and Joy: Connecting Children to Nature. Instructors Claude Stephens, facilitator of outreach and regenerative design at Bernheim Arboretum and Research Forest; Melissa Rue, Bernheim's Children at Play Network coordinator; and Jackie Gallimore, The Arboretum's children's education coordinator, will lead this family gathering in the Kentucky Children's Garden for ages 2 and up. The workshop will help parents better understand the value of play and will offer strategies for exploring nature through play. Plus, it will be a lot of fun for the children.
Party for the Planet wraps up with Arbor Day at The Arboretum from 10 a.m. to 2 p.m. EDT April 28. The ceremony will include Kentucky's Arbor Day Proclamation, Lexington's Arbor Day Proclamation, and presentation of the Tree Campus and Tree City USA awards. There will be tree giveaways, exhibitor tents and the annual birdhouses and birdfeeders display.
To register for workshops, call The Arboretum at 859-257-6955. More information about Party for the Planet and other Arboretum activities are online at http://arboretum.ca.uky.edu/calendar.
The Arboretum began in 1991 as a joint effort between UK and the Lexington-Fayette Urban County Government. It is located near UK's campus at 500 Alumni Drive and offers more than 100 acres of trails, waterways, native trees, a children's garden and exhibits.
---
Events