The Arboretum celebtrates Arbor Day Oct. 22
The Arboretum celebtrates Arbor Day Oct. 22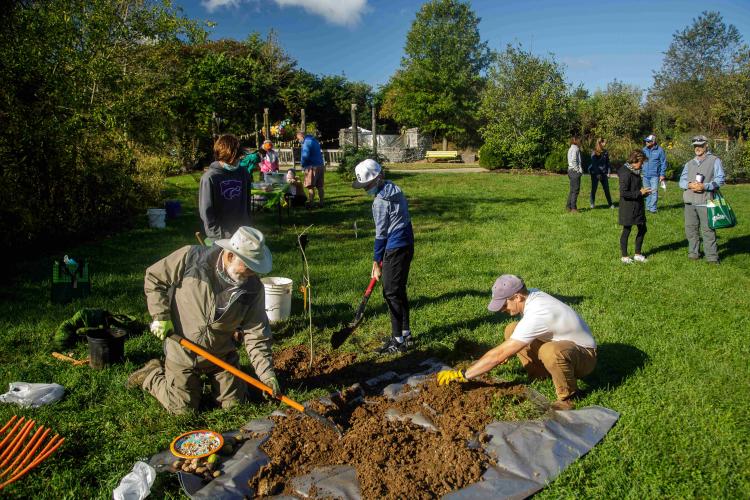 Lexington, Ky—
The Arboretum, State Botanical Garden of Kentucky, a partnership between the University of Kentucky and the Lexington-Fayette Urban County Government, honors and celebrates the Earth's health with its Arbor Day celebration Oct. 22 with a number of activities, such as a plant and seed exchange and free entry to the Kentucky Children's Garden. 
While National Arbor Day is always celebrated on the last Friday in April, states observe Arbor Day on different dates throughout the year based on the best tree planting times in their area. For many years, Kentucky observed the holiday in April, but in 2021, The Arboretum began hosting it in October. 
"We wanted to move our celebration of Arbor Day to October because trees planted in the fall generally fare better than those that are planted in the spring," said Molly Davis, director of The Arboretum. "Also, the COVID pandemic changed how we planned the event and its goal of education. We decided that what we wanted to focus on educating future generations of tree planters and the quality of what gets planted and not just the quantity." 
This year's Arbor Day program will start with a plant and seed exchange at 9 a.m. EDT. Those with items to exchange—anything garden-related, from plants to seeds to tools—should bring them at 8:30 a.m. to the overflow parking lot, located behind the paved lot. This year's event also includes free entry into the Kentucky Children's Garden until 5 p.m., which will open at approximately 10:30 a.m. Lexington mayor Linda Gorton will make the proclamation of Arbor Day at 10 a.m. 
A tree planting is always a featured part of The Arboretum's Arbor Day celebration, and this year's will occur at 11 a.m. in the Kentucky Children's Garden. All are welcome to help dig the hole for the tree, install, mulch and water it to make sure it has the best chance for success.  
A Callery pear workshop and tour of native tree alternatives will take place at 2 p.m. This workshop is intended to teach people how to identify Callery pear trees in the fall, learn why this species causes problems in Kentucky landscapes and see native tree alternatives for homes. The Kentucky Invasive Plant Council deems the Callery pear a severe threat to native plant communities.  
The 31st Arbor Day celebration at The Arboretum is supported by sponsors including presenting sponsor LG/E&KU Foundation and the Lexington Tree Board.  
"Our Arbor Day celebration gives people the chance to visit The Arboretum and the Kentucky Children's Garden, free of charge," Davis said. "We will have a variety of tree-related activities in the Kentucky Children's Garden, as well as UK student clubs including Horticulture, Entomology, Herpetology, and Geology and Live Green Lexington."  
Lexington and UK hold several designations, including Tree City USA, Tree Campus USA and Health Care Tree Campus USA, all given to good stewards of the land. The Arbor Day Foundation requires institutions to follow several guidelines to earn these special designations. 
In 1991, the University of Kentucky and the Urban County Government of Lexington-Fayette collaborated to establish The Arboretum, Kentucky's State Botanical Garden. The Arboretum is administratively housed in the UK College of Agriculture, Food and Environment's Department of Horticulture. More than a hundred acres of native plant collections from each of Kentucky's seven physiographic regions, horticultural gardens and displays, trails, water features, the Kentucky Children's Garden and seasonal events can be found at The Arboretum, located at 500 Alumni Drive in Lexington. 
For more information on The Arboretum's Arbor Day celebration, visit https://arboretum.ca.uky.edu/calendar. 
---
Community Development
Environment