The Arboretum invites people to Party for the Planet
The Arboretum invites people to Party for the Planet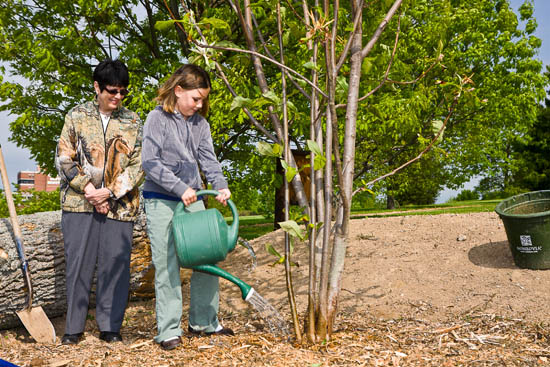 LEXINGTON, Ky.—
April is the month to Party for the Planet, a celebration of Earth Month at The Arboretum, State Botanical Garden of Kentucky and part of the University of Kentucky College of Agriculture.
The largest statewide Earth Month celebration of its kind, the annual party, which is sponsored by Kentucky Utilities, has gained international recognition for Lexington. The event—Kentucky Utilities calls it an "eco-extravaganza"—is filled with special activities focused on environmental topics and is designed to bring adults and children closer to the wonders of trees and nature.
"It's time to say goodbye to the long, cold winter, as The Arboretum is in full bloom with a celebration to remember," said Marcia Farris, The Arboretum director.
"One day isn't enough to celebrate the earth, so we're hosting a party all month in April," said Laura Douglas, vice president of corporate responsibility and corporate affairs at Kentucky Utilities. "KU is especially proud to host Earth Month as our company celebrates its 100th anniversary in 2013."
Party for the Planet will culminate with an Arbor Day celebration from 10 a.m. to 2 p.m. EDT April 27. Thanks to the support of Kentucky Utilities, the Kentucky Children's Garden will be free and open to all children and parents throughout that four-hour period.
Arbor Day at The Arboretum has drawn record attendance over the years. The 2012 Arbor Day earned the Gold Leaf Award for excellence from the International Society of Arboriculture. As he has done in past years, Lexington Mayor Jim Gray will kick off the celebration with a reading of the Arbor Day Proclamation followed by the planting of the Arbor Day tree. For the better part of the past quarter-century, Lexington has earned recognition each year from the Arbor Day Foundation as a Tree City USA.  And now, for the second consecutive year, UK is being honored as a Tree Campus USA by the foundation.
The theme for this Arbor Day is "Plant, Nurture and Cherish." More than 40 exhibitors and demonstrators will offer expertise on planting and nurturing trees, as well as responsible stewardship of the environment. Costumed characters, including Kentucky Utilities' Louie the Lightning Bug, will be on hand, and Kentucky Utilities volunteers will give away tree seedlings.
Kentucky Utilities is the presenting sponsor of Arbor Day, along with co-sponsors Lexmark International and Kentucky American Water Company. Support also comes from the Lexington-Fayette County Environmental Commission, Big Beaver Tree Service, Community Tree Care Inc., Dave Leonard Tree Specialist, Keep Lexington Beautiful, Fayette Local Emergency Planning Committee and Town Branch Tree Experts Inc.
The Arboretum is located next to UK's campus at 500 Alumni Drive and offers more than 100 acres of trails, waterways, native trees, a children's garden and exhibits. For more information about activities and seminars during Party for the Planet, visit The Arboretum website, http://www.ca.uky.edu/arboretum/calendar_events.php.
---
Environment
Events