On a cold, sunny Saturday morning teens donned costumes, animated puppets and read stories to teach nature lessons to children at the University of Kentucky Lexington-Fayette Urban County Government Arboretum.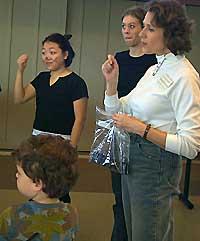 The teens are members of "Caring for Kids," a service club at Paul Laurence Dunbar High School in Lexington. The club members use drama and music to reach out to children and others in the community.
"They just want to do something good for their community," said Gary Egan, the group's sponsor and an English teacher. "This is truly a student run project. They are amazing."
The group taught children about nocturnal creatures like fruit bats and owls, and the importance of darkness. The group will highlight different types of animals in two future programs at the Arboretum on Feb. 8 and March 8.
"The Arboretum is trying to do more outreach to young people in the community, and of course it is ideal to bring in high school students," said Brenda Franey, education coordinator at the center. "Young kids really enjoy doing activities with high school students. They really look up to high school students who are good role models and are interested in nature."
Storytelling for young children is just one of the activities the arboretum offers year-round due to the opening of the Dorotha Smith Oatts Visitor Center on the grounds.
The center is a bright, open facility with large windows on three sides to view the beauty of the surrounding gardens. Staff offices also are located in the center.
Other upcoming activities at the center include a two-part landscaping series for interested gardeners during February and March. Pre-registration is required.
Also, "Glories of the Garden," an art exhibit featuring botanically related pieces, will be on display at the center during February.
"The facility allows us to be a year-round place for people to come," Franey said. "Before, we were limited by weather and now we can plan events and don't have to worry about the weather."
Contact:
Brenda Franey  859-257-9339