Bastin named chair, UK Department of Dietetics and Human Nutrition
Bastin named chair, UK Department of Dietetics and Human Nutrition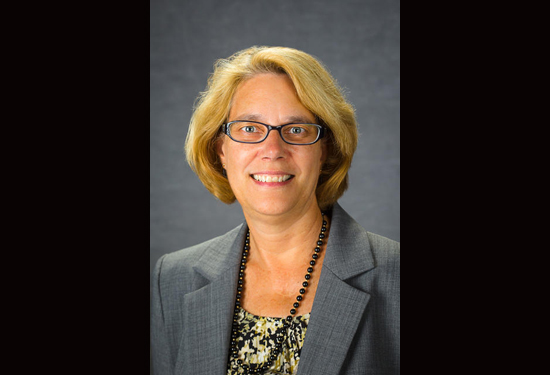 LEXINGTON, Ky.—
An extension professor, who helps ensure Kentucky food entrepreneurs put their best, safest product forward, was recently named chair of the University of Kentucky Department of Dietetics and Human Nutrition.
Sandra Bastin, who's also a certified culinary educator and registered dietitian, has been an extension food and nutrition specialist in the UK College of Agriculture, Food and Environment since 1996. She has served as interim chair of the department since September 2011.
"Sandra has long been a leader in our nutrition and foods extension programs," said Scott Smith, dean of the college. "Over the last couple of years we have also come to rely on her leadership in the academic mission."
Raised in Lexington to parents who both worked in nutrition education, Bastin received her bachelor's in dietetics administration, master's in nutritional sciences, and doctorate in food science from UK. She has worked as a professional in all sectors of the industry, but considers her time as a small business owner and operator of a restaurant to be the arena where she developed most of her leadership skills. LEAD21, an intense program that develops leaders in land-grant institutions, also prepared her to be more effective in supporting faculty and students in their diverse needs.
Bastin has received numerous awards throughout her career, most recently earning the Outstanding Dietetic Educator of the Year by the Kentucky Dietetic Association. She also currently serves on the Kentucky Board of Licensure and Certification for Dietitians and Nutritionists and recently completed a two-year term on the Nutrition and Health Committee for Planning and Guidance, part of the National Institute for Food and Agriculture. The institute is an arm of the U.S. Department of Agriculture.
As chair, Bastin hopes to build upon the strengths of the faculty to create a first-class, research-based program that not only attracts quality undergraduate and graduate students, but also betters the health of Kentuckians by providing them with sound nutritional information.
"I am very excited that our faculty members have recently been awarded competitive grant funding from The Robert Wood Johnson Foundation, USDA NIFA and the National Institutes of Health," she said. "Besides the contribution to improving society's health, they are also integrating their research into the classroom."
While interim chair, Bastin and faculty members created the FIRST Initiative for the department to expand upon its core values to create a more student-oriented atmosphere. FIRST stands for focus, innovation, respect, success and teamwork.
Bastin and department faculty are working on increasing leadership and best practice learning opportunities for students. They are also integrating an array of innovative teaching strategies to make classes more engaging for students, such as hiring theatre majors to act as patients in a counseling course and allowing students to gain real-world experience through food preparation, service, food sustainability, and leadership in a quantity food preparation course, affectionately known as Lemon Tree, after the department's on-campus restaurant.
"My vision for the department is to be first in excellence in research, teaching and outreach activities, including our extension programming and delivery," Bastin said.
---
Events
Extension
Family Consumer Sciences