Become a Project WET educator through UK Water Week workshop
Become a Project WET educator through UK Water Week workshop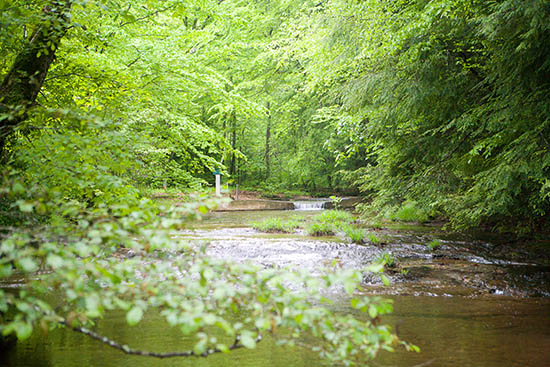 LEXINGTON, Ky.—
Project WET (Water Education for Teachers) is a nationally and internationally used environmental education curriculum. Its interdisciplinary, hands-on activities are designed to provide educators with ways to engage learners in the many aspects of water in the environment.
As part of University of Kentucky's 2017 Water Week, Biosystems and Agricultural Engineering Extension, the Kentucky Division of Water and the Kentucky Association for Environmental Education are hosting a Project WET certification workshop from 9 a.m. to 4 p.m. Oct. 7 at Raven Run Nature Sanctuary in Lexington.
While the curriculum focuses on environmental education and water, it also includes other subjects such as mathematics, the arts, language arts and the physical sciences. Educators can structure the activities for as young as kindergarten up through high school and college. Some activities are even suitable for early childhood education. Much of the curriculum is aligned with the Kentucky Academic Standards or Next Generation Science standards that teachers are required to meet.
The workshop is aimed at K-12 teachers, cooperative extension agents and students who are studying to become teachers. Participants will learn how the material is laid out and will go through a series of activities to become familiar with the hands-on curriculum. At the end, they will be certified in the program and receive the curriculum to use in their classrooms.
The registration fee is $45, which includes the Project WET guidebook, workshop materials and lunch. Lodging is not provided. Register no later than Sept. 29 at https://www.uky.edu/bae/cpdor by contacting Carmen Agouridis at carmen.agouridis@uky.edu or 859-218-4344. Payment is by check only and no later than Sept. 25. UK or Kentucky State University extension personnel may register at https://kers.ca.uky.edu/kers_mobile/InServiceCatalogU.aspx.
Biosystems and Agricultural Engineering Extension is part of Kentucky Cooperative Extension Service, which resides within the UK College of Agriculture, Food and Environment.
---
Biosystems Ag Engineering
Environment
Events
Extension