Belle C. Gunn First-Year Program welcomes freshmen with tenacity, curiosity and passion
Belle C. Gunn First-Year Program welcomes freshmen with tenacity, curiosity and passion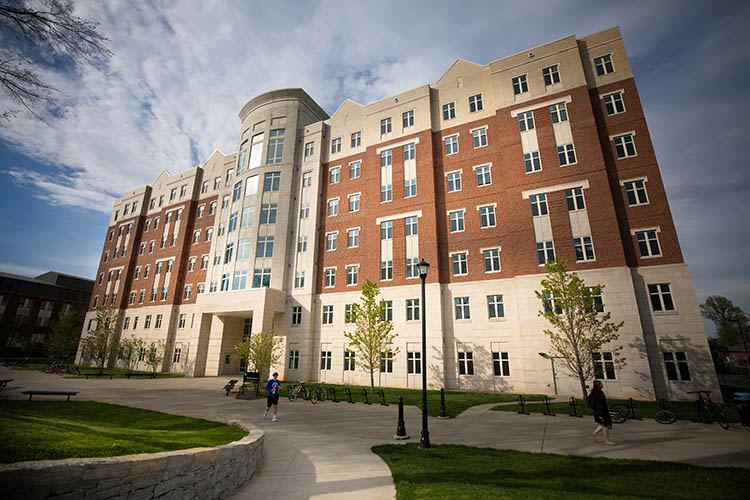 LEXINGTON, Ky., — The University of Kentucky College of Agriculture, Food and Environment recently announced a reimagined Living Learning program, the Belle C. Gunn First-Year Program.
In 1888, Belle C. Gunn was the first woman to graduate with a bachelor's degree from what was then known as the State College of Kentucky and is now the University of Kentucky. Beginning in fall semester 2020, the College of Agriculture, Food and Environment's living learning program, an on-campus residential program, will carry her legacy into the 21st century by offering a unique opportunity for first-time freshmen wanting to apply their passion and determination to today's challenges.
"Gunn had the tenacity to swim against the tide and obtain a degree at a time when college-educated women were rare," said Megan Tennison, CAFE living learning program coordinator. "It's fitting for her to be the namesake of our new program. We want students who, like Gunn, are eager to push boundaries and apply their ambition to address 21st century issues."
Grounded in agriculture, similar to Gunn's Shelby County upbringing, the program introduces students to the interrelated systems of food, economics and environment.
All UK students are eligible to join, regardless of their chosen major or college. Depending on their expressed interests, each student will join one of the following tracks:
Food and Health: for students interested in a broad understanding of food, from production to nutrition
Nature and Landscapes: for students interested in environmental and sustainability issues
Family and Community: for students interested in issues facing families, small businesses and local tourism
Livestock and Equine: for students interested in domestic, large-breed animals
Beyond track-based courses and activities, students can expect regular, professional development workshops, Lexington outings, social gatherings, and community service projects.
"If my child were coming to college, I would encourage them to be in a living learning program. I think it's a great way to integrate yourself into a community inside UK and experience all the university has to offer," said Carmen Agouridis, CAFE associate dean for instruction. "The College of Agriculture, Food and Environment is a family, and we are excited to be able to welcome new students into the fold through this exceptional program and help them navigate that first year at a university. Through all the opportunities available to them, freshmen will also build leadership and critical thinking skills that will stand them in good stead for the rest of their lives."
Students will live in Woodland Glen IV, one of several new residence halls on campus. Institutional research has shown that freshman who select living learning programs have higher grade point averages and are more likely to graduate. LLP students have also expressed a greater sense of belonging to the UK community than those who choose other living arrangements.
Students wanting to participate in this program should select "Agriculture, Food and Environment" when completing the housing application at http://uky.edu/housing. Contact Tennison with questions about the program at 859-257-3468 or megan.tennison@uky.edu.