Bennie and Cheryllee Sargent named 2015 Friend of UK Ag Equine Programs
Bennie and Cheryllee Sargent named 2015 Friend of UK Ag Equine Programs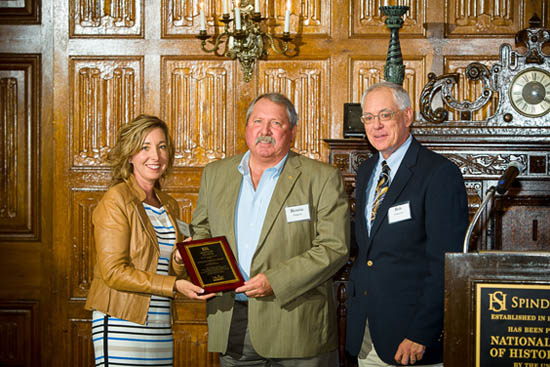 LEXINGTON, Ky.—
There are friends, and then there are longtime friends – the kind who were friends well before a program ever existed. Bennie and Cheryllee Sargent, who were collectively recognized as the 2015 Friend of the University of Kentucky's Ag Equine Programs during its Equine Science and Management program reception Sept. 8 at Spindletop Hall, can be counted as those longtime kind of friends.
Based out of Paris, the Sargents of Sargent Quarter Horses, have been supporters of UK's equine programming efforts for nearly 20 years, from Bennie serving as coach of the UK Equestrian Team, western division, to the couple hosting and helping with numerous 4-H activities and extension programs.
"UK's equine program is unique across the country because of where we are located and the great support we receive from industry professionals like Bennie and Cheryllee Sargent," said Bob Coleman, director of undergraduate studies in Equine Science and Management and equine extension professor. "They are truly our friends, and it is great to have them recognized for all they do."
Coleman, who also serves as UK Equestrian Team faculty adviser, nominated the couple for the honor.
The Sargents have helped raise Kentucky's profile in the world of American Quarter Horses through their years of service to the Kentucky Quarter Horse Association. Bennie has been a successful trainer for more than 35 years and was named the 2006 AQHA Horseman of the Year. He has trained and shown horses to multiple versatility championships, AQHA championships and Honor Roll honors in several events including halter, reining, working hunter and trail.
"We benefit greatly from the willingness of some of the best people in the industry to invest in our students and our program," said Jill Stowe, director of UK Ag Equine Programs and associate professor in agricultural economics. "Bennie and Cheryllee Sargent have exemplified that generosity over many years by sharing their knowledge and expertise with our students, along with youth in general. They are investing in the industry's leaders of tomorrow, and we are so appreciative of their support."
Western Equestrian Team student president AnnMarie Kadnar wrote a letter supporting the Sargents' nomination, thanking the couple for giving their time to the student riders on the team, both in practices and in devoting numerous weekends to team competitions. In addition, she expressed appreciation for the expertise they have shared over many years, and in the generosity Bennie exhibits by letting riders use his personal horses for practice and competition. Cheryllee got special recognition for providing students home-cooked meals several times a semester, and for ensuring that UK's shows routinely offer prizes that are the envy of other programs.
According to Coleman, the Sargents have supported the 4-H Horse Program for nearly 20 years, from supplying horses for judging contests to giving horse judging clinics to youth. In collaboration with extension personnel at UK, the Sargents installed high traffic pads at their previous Georgetown facility to alleviate the footing problems associated with highly-concentrated horse traffic, a problem many horse owners face. That process was documented and has been used by UK experts to show best practices in managing high traffic areas.
"Bennie and Cheryllee have opened up their farm, horses and their hearts to UK. You don't visit Bennie's farm without seeing UK students learning horsemanship and training," said Nancy Cox, dean of the College of Agriculture, Food and Environment. "I visited recently when our own UK President Eli Capilouto came out for a riding lesson. I watched four or five team members being coached by Bennie, on his own horses. He is a consummate teacher and there is no greater family deserving of this award."
The Friend of UK Ag Equine Programs was created in 2005, when the program was called the Equine Initiative, to recognize a member of the public who had provided advocacy, funding or other extraordinary support for the UK College of Agriculture, Food and Environment's equine programs or a college or university employee who had generated an exceptional relationship with stakeholders that manifested into a new program, new advocacy success or new resources for the program.
Past Friends of UK's Ag Equine Programs include Stuart Brown, a Lexington-based veterinarian specializing in equine reproduction with Hagyard Equine Medical Institute; Norm Luba, executive director of the North American Equine Ranching Information Council and current chair of the UK College of Agriculture, Food and Environment's Equine Advisory Committee; Dan Rosenberg of Rosenberg Thoroughbred Consulting; Northern Kentucky county extension agent trio Don Sorrell of Campbell County, Dan Allen of Kenton County and Jerry Brown of Boone County; and David Switzer, former executive director of Kentucky Thoroughbred Association/Kentucky Owners and Breeders Association.
For more information about UK's Ag Equine Programs, visit www.ca.uky.edu/equine. 
---
Awards
Equine
Events
Extension