Bruce and Jeremy Benson receive UK Wheat Service Award
Bruce and Jeremy Benson receive UK Wheat Service Award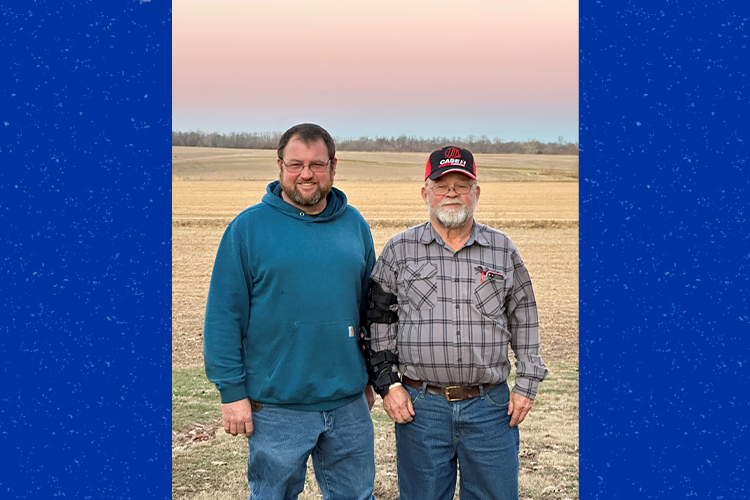 Lexington, Ky.—
Webster County grain farmers Bruce and Jeremy Benson have been named the 2023 University of Kentucky Wheat Science Group's Service Award recipients. Group members give the award during their annual winter meeting to honor producers and industry representatives for their research collaborations and support.   
Bruce Benson won the Kentucky Wheat Production Contest in 2003 and 2004, prompting Bill Bruening, research specialist with the UK College of Agriculture, Food and Environment Department of Plant and Soil Science, to contact him in 2005 about hosting a UK wheat variety trial on Benson's farm. This marked the start of a long and fruitful relationship between the UK wheat research community and Benson Farms. 
"The Bensons' collaborated with the UK Wheat Variety Trial Program, hosting research trials for the years 2005-2008 and 2019-present," Bruening said. "They have gone out of their way to accommodate our research needs and put forth a remarkable effort to ensure the successful management of these trials." 
In addition to wheat, the father-son duo raise cattle. The Bensons spoke highly of wheat as a forage crop and demonstrated their wheat forage harvesting operation to Bruening, which resulted in establishing the UK Wheat Variety Forage Trial in 2006. 
The ongoing forage trial is the largest wheat variety forage trial in the United States. The trial demonstrates that forage yield potential significantly varies between wheat varieties, and the results of the experiments enable growers across the nation with both grain and livestock production operations to choose varieties with high grain and forage yield potential. 
"Growers from the Ohio Valley Region have similar soil types and benefit from data collected from their farm," Bruening said. "Research trials require precise chemical and fertilizer applications and the Bensons do a remarkable job hitting the trial's predetermined tramlines precisely in the center every year. We have never lost any plot due to over or under-spray applications and always feel good about releasing quality data from this location to the public."
---
Awards
Crops