Camp raises awareness for next generation of natural resources leaders
Camp raises awareness for next generation of natural resources leaders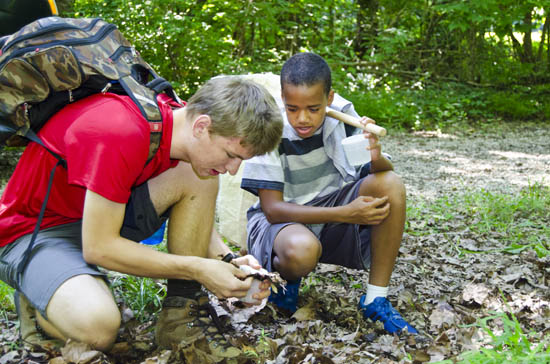 JABEZ, Ky.—
Under blue skies and perfect early June weather conditions, 24 high school students gathered in southern Kentucky to explore a future in natural resources—and in the process, had a little fun, got a little dirty and learned a lot.
The Kentucky Forest Leadership Program is a weeklong, overnight camp where University of Kentucky forestry, entomology and wildlife experts from the College of Agriculture, Food and Environment join with foresters and biologists from the Kentucky Division of Forestry to expose high school students to career opportunities available in natural resources. Campers, 14 to 18 years old from 11 Kentucky counties, as well as Indiana, Wisconsin and Florida, chose one of the three areas of concentration, but by the end of the camp, they had a better understanding of all three subjects and their mutually beneficial relationships in the natural world.
In addition, the campers learned about many other environmental topics from UK and state specialists, such as water education and technology.
Elijah Schultz from Taylorsville said bugs have fascinated him since he was little. He came to camp to find out if he wanted to pursue a career in studying or working with them. In the meantime, he was finding all kinds of interesting insects in the woods that weren't in his backyard at home.
"I was able to see a lot in person here that I've only read about in books, which is really cool," he said.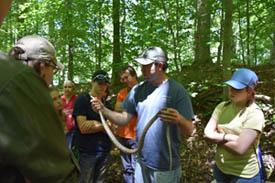 The camp's location at the Lake Cumberland 4-H Educational Center in Jabez, with its adjacent woodlands was ideal for the week's activities. With meadows, woodlands, a still-water wetland and a tributary stream that is spring-fed and flows into Lake Cumberland, students could see different ecosystems within walking distance.
"It's a way to show the very big differences between ecosystems that aren't very far apart," said Blake Newton, UK entomology extension specialist. "For example, even though both wetlands are freshwater, they have totally different kinds of creatures in them."
Dragonflies, moths, beetles and even a winged queen ant went into the collections the campers took home with them. One of those collections went back to Wisconsin with Lucy Brown, who was enthusiastic about all she had found.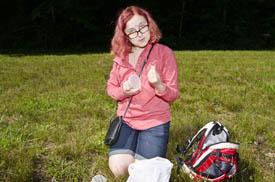 "I've found all sorts of things, especially beetles," she said. "We don't have as many of those up in Wisconsin. I caught a stag beetle last night and a bess beetle the night before. They're really big."
Down the road a bit, Levi Howell from Lexington and James Worthington from Louisville discussed their field data with Division of Forestry forester Steve Rogers. Both were carrying Biltmore sticks, which they used to measure tree diameter and height. In the first three days of camp, they had already learned a great deal.
"We learned how to identify trees and how to set (live release) traps, and what kinds of bugs are around here," Howell said.
"And mushrooms," Worthington added. "That was fun. I like fungi. It's been fun meeting new people and learning a lot of new things.
A group of eight campers came out of the woods on the third day after an early morning exploratory hike and gathered on benches to start developing a management plan to encourage more pollinators in that particular woodland. To do that, they had to consider a variety of aspects: timber, plants, wildlife, insects and water.
"This program is a total integration of everything out here. Everything interacts in the forest. They'll come away from camp understanding that a little more," said Doug McLaren, camp director and retired UK extension forester.
Stacy White, agriculture and natural resources extension agent from Bell County, led the wildlife section in studying, as he put it, "all creatures small and great," from pollinators to deer.
"The value to a program like this is we have a lot of students who have an interest in forests and wildlife; this is a good opportunity to see how deep their interest is and that they can actually get an education and build a career," he said.
Laurie Thomas, UK extension forester and program coordinator, said many of the campers indicated at the beginning that they wanted to learn if natural resources was a field they wanted to pursue for a career.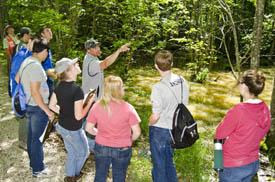 "It's a great opportunity for them to see their possibilities and meet people who they can contact in the future if they're really interested," she said.
With that in mind, Wayne Centers and Geri Philpott from the UK College of Agriculture, Food and Environment, spoke to the campers about degree programs and scholarship opportunities. To cap off the experience, Bill Steele, director of the Kentucky Division of Forestry, arrived on the last day to hear the campers' presentations and to present them with their certificates of completion.
The Kentucky Forest Leadership Program is open to high school students who have completed their freshman year. Next year's camp is scheduled for June 5-9. The program is limited to 25 campers and spots are filled on a first come, first serve basis. Interested individuals can contact Thomas at 859-257-2703 or laurie.thomas@uky.edu with any questions.
---
Entomology
Environment
Events
Extension
Forestry