Class Helps Hispanic Workers Gain English Skills
Class Helps Hispanic Workers Gain English Skills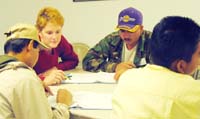 HARDINSBURG, Ky.—
A mixture of English and Spanish flows from a meeting room inside the Breckinridge County office of the University of Kentucky Cooperative Extension Service.
Each Thursday evening for eight weeks, Hispanic workers gather to improve their English skills, socialize and share a meal. Along with the Hispanic workers, several local residents are trying to learn a little Spanish as well to better communicate with their workers.
The classes began in 1999 with a federal program called People Learning Others Ways (PLOW), said Carol Hinton, Breckinridge County Extension agent for agriculture and natural resources.  Someone came in and taught that class one night a week for 10 weeks. After that, program organizers had to find their own funding and teachers.
"Local funding, local churches and volunteers have been doing the rest of the program from teaching, to funding it, to making a meal," she said. "Some churches provide the meals and others provide money so we can go out and eat."
After the meal, people break into small groups depending on their knowledge of English. The information is spoken in English and Spanish and as it is being read, workers can see it written as well.
"They teach us Spanish as we teach them English," Hinton said.
The program runs during October and November when less is being done on area farms in the evenings.
"The local businesses have really profited from this because it is so much easier for one of these men to go into a store and say I need a red shirt or I need a telephone card," she said. "They've learned those things that they've needed because we picked out specific phrases we knew they'd need in the public.
"We taught them the specific phrases we knew they'd need just to help themselves, because if you've ever been to a foreign country and spoken to someone in a foreign country, it is so hard and frustrating for you and for them to get your point across," Hinton said.
There are a number of Hispanic workers in Breckinridge County, some live there fulltime while others come to work in tobacco each year.
"When they come back we can see a big difference because they all take their notebooks home with them to Mexico and when they come back, they'll know more English," she said.
Benjamin Zenaido has lived in Kentucky for almost six years and works construction. He's been attending the classes for three years. He speaks English very well and helps interpret for others and tries to teach some of his friends when he has spare time.
"Sometimes I come over here and I hear a new word and it's good," he said. "It's something new. One of my really good friends, when he first started coming to the classes his English was nothing but it has really gone up," Zenaido said.
Isaac Garcia Barajas said he's been coming to the classes three or four years and can now communicate with his boss enough to get an understanding of what he's doing, he said through Zenaido. He said he practices a whole lot because his boss doesn't speak Spanish so he has had to speak English.
Breckinridge County farmer Steven Hinton said he attended for a few years and brings his workers every year.
"They are learning more English and it helps us communicate better," he said. "From the start, we've never had any trouble communicating as far as the work we needed to get done. But I'd kind of like to know more about their families and be able to carry on a basic conversation and this has helped tremendously. The Mexicans are faster learners than I am because over the years, they've learned more English than I have Spanish. I've learned a whole lot just listening to them. I've got a couple of guys who have been with me for eight years now and I remember one of the guys when he first got here I couldn't speak a word of Spanish and he couldn't speak a word of English and we had a big problem. But now, he can call me on the phone in the wintertime or spring and we can have a conversation on the phone."
Farmer Frank Finley is attending the class to try to learn some Spanish.
"I think it helps if we can both communicate a little better," he said. "I've always wanted to learn it. I'm learning a little. They are catching on quicker than I am. They hear mostly English all the time, while I only hear Spanish occasionally."
Sarah Graham, a high school sophomore and second year Spanish student, is one of several people volunteering to teach. The classes allow her to get needed volunteer hours for National Honor Society but she says it is also helping her to hone her skills.
"Coming out here helps me because I'm learning to understand it more," she said. "We read stuff to them and they read it back to us and we help them pronunciate and if I don't say something right they correct me."
                                       -30-