College's Tyler one of six UK students recognized by Fulbright Program
College's Tyler one of six UK students recognized by Fulbright Program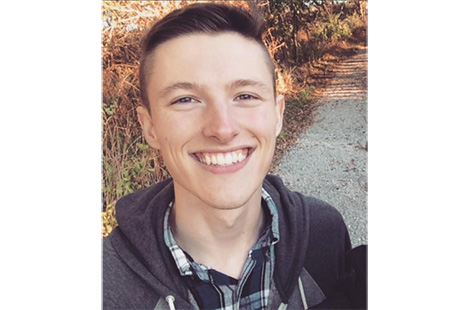 LEXINGTON, Ky.—
University of Kentucky Office of Nationally Competitive Awards has announced that four UK graduates have been offered Fulbright U.S. Student Program scholarships and three have accepted the award. The UK recipients are among approximately 1,700 U.S. citizens who will travel abroad for the 2017-18 academic year through the prestigious program. In addition, two other UK students were selected as alternates for the program.
Recipients of Fulbright grants are selected based on academic or professional achievement, as well as demonstrated leadership potential in their fields. The program operates in more than 160 countries worldwide.
The UK graduates awarded Fulbright grants are:
Yvonne Johnson, daughter of Roger and Sonia Johnson of La Grange, Kentucky, is the 2017 Fulbright Lancaster University Award winner. Each application cycle, only one Fulbright grant is awarded for graduate study at Lancaster University. Johnson will use her Fulbright to pursue a one-year master's degree in cyber security.
Johnson was drawn to Lancaster's cyber security program because it is multi-disciplinary. "Their program intersects computer science with psychology, sociology, economics and more. As an English and computer science graduate, I recognize that the intersection between humanities and engineering in solving STEM field problems is important.
"I ultimately chose cyber security for various reasons. Firstly, I value the internet's role in the facilitation of global innovation and mutual understanding, and I want to help ensure that the internet remains secure and open for expression. Secondly, as a writer interested in solving social issues, I see cyber security as another tool to improve society. For example, Lancaster's security research focuses on issues important to me, like how to protect children online at risk for sexual exploitation and how to reduce cyber violence," Johnson said.
During her undergraduate studies at UK, Johnson was a member of the Lewis Honors College, president of the Graphite Creative Writing Association, and managing poetry editor and German language editor for Shale, the university's undergraduate arts journal. A member of The Affrilachian Poets, she also partook in the IEEEXtreme 24-Hour Programming Competition and Education Abroad. Additionally, Johnson participated in security research in Karlsruhe, Germany, involving secure humanly-usable password generation methods and bioinformatics research at UK involving protein-protein-interaction databases.
On her return to the U.S., Johnson plans to enter industry and build a career in cyber security that protects vulnerable people online. Later in life, she sees herself entering the research and education sectors, utilizing industry experience to inform her research.
Ravyn Tanner, daughter of Rowdy and Angela Tanner of Alexandria, Kentucky, was awarded a Fulbright English Teaching Assistantship (ETA) to teach in Paraguay.
Tanner, who holds a Spanish minor from UK, looks at her upcoming placement as not only a way to serve but as also an opportunity to continue learning. "Paraguay has a rich indigenous culture that is less Americanized than much of the rest of Latin America. I plan to use my time in Paraguay to become proficient at the Spanish language, as well as the native Guarani language. I'm also very excited to build onto the local community projects that the ETAs from last year have started."
During her undergraduate studies, Tanner was the dancer relations chair of DanceBlue 2017, a member of the Lewis Honors College and the Psychology Scholars Program, a student leader in Christian Student Fellowship, as well as a recipient of the Singletary Scholarship. She also participated in undergraduate research in developmental and social psychology; education abroad programs in Costa Rica, the United Kingdom, France and Italy; and worked as a standardized patient for the College of Medicine Learning Center.
Additionally, Tanner took part in the Summer Health Professionals Education Program at University of Louisville during the summer of 2014, the Case Western Reserve University Medical School Summer Undergraduate Research Program during the summer of 2015, and interned for missionaries in Honduras through Sparrow Missions during the summer of 2016. Most recently, Tanner presented her research for her psychology senior honors thesis project, "How Family Characteristics Predict Experiences with and Coping with Sexual Harassment in Adolescent Girls," at the National Conference for Undergraduate Research in Memphis, Tennessee. Tanner credits research mentor, UK Professor of Psychology Christia Spears Brown; her Singletary adviser, Meg Marquis; Senior Lecturer of Hispanic Studies Heather Campbell Speltz; Joe Gatton, of the Office of Medical Education; and Matt Dampier, associate director of UKCSF, for helping her achieve this award.
After completing her work with Fulbright in Paraguay, Tanner will begin teaching at a bilingual elementary school for Teach for America in the Rio Grande Valley of Texas through Americorps. During her time with Teach for America, she plans on obtaining her master's degree in education.
Zachary Tyler, son of David and Lisa Tyler of Winchester, Kentucky, is the recipient of a Fulbright Research Grant to study the environment in Brazil. He will use the grant to examine growth patterns of relatively unstudied tree species of the Amazon rainforest. This information may be used to identify trees that will be most effective for restoration purposes. Native seeds will be collected by local indigenous groups and grown in a variety of experimental conditions.
Tyler is excited about the opportunity the Fulbright grant affords him to pursue his work abroad. "I deeply appreciate the opportunity to work in an international setting, while pursuing novel research dedicated to preserving and protecting our natural world. In any career decision, my primary goal is to ingrain systematic sustainability within society while improving the human condition. The international aspect of this grant allows me to pursue conservation in areas of great biological and human diversity, which are inherently complex, educational and beautiful."
This will be Tyler's second experience working in Brazil, a great example of a country looking for ways to best balance growth and a healthy environment. "When I first studied in Brazil, it became apparent that the quality of life depends on balancing environmental protection and socioeconomic development, which are often mistakenly seen as conflicting. Brazil is gifted with an abundance of natural resources. However, I was concerned to see some of these resources exploited in a highly unsustainable way. This must be addressed while still protecting the thriving agriculture sector that is part of Brazil's economic backbone."
In addition to his environmental studies in Brazil, Tyler has interned with the UK Office of Sustainability and worked as an energy auditor with the Kentucky Industrial Assessment Center.
Tyler's future plans largely depend on his Fulbright experience in Brazil. "Ideally, education will be an inherent component of any workplace, and my career will be a continuous process of development and learning. However, if graduate school is the logical step to more deeply pursue my path of interest, I would gladly explore such possibilities both domestically and abroad. I am interested in opportunities abroad so my education can heavily emphasize cultural experiences while also allowing me to target areas of critical concern."
Hannah Latta, daughter of Gary and Lou Ann Latta of Mayfield, Kentucky, was awarded a Fulbright ETA to teach in the Czech Republic. At UK, Latta was a Chellgren Fellow, a Gaines Fellow and member of the Lewis Honors College. She was also a member of Phi Delta Epsilon and volunteer at Kentucky Children's Hospital.
Latta has declined her Fulbright ETA to prepare to attend UK College of Medicine this fall. Her plans are to pursue a career in pediatric oncology.
In addition to UK's four Fulbright recipients, two other UK students were named alternates for the program: communication sciences and disorders graduate student Sydney Barnett, of Louisville, Kentucky, and anthropology doctoral student M. Ruth Dike, of Memphis, Tennessee.
Since its establishment in 1946 under legislation introduced by the late U.S. Senator J. William Fulbright of Arkansas, the Fulbright Program has given more than 370,000 students, scholars, teachers, artists and scientists the opportunity to study, teach and conduct research, exchange ideas and contribute to finding solutions to shared international concerns. Fulbright alumni have achieved distinction in government, science, the arts, business, philanthropy, education and athletics and won such prestigious honors as the Nobel Prize, Pulitzer Prize, MacArthur Foundation Award and the U.S. Presidential Medal of Freedom. The Fulbright U.S. Student Program is administered by the Institute of International Education. For further information about the Fulbright Program, visit the website http://eca.state.gov/fulbright.
UK students who are U.S. citizens may apply for Fulbright U.S. Student Program scholarships through the university's Office of Nationally Competitive Awards. Part of the Chellgren Center for Undergraduate Excellence within the Division of Student and Academic Life at UK, the Office of Nationally Competitive Awards assists current UK undergraduate and graduate students and recent alumni in applying for external scholarships and fellowships funded by sources (such as a nongovernment foundation or government agency) outside the university. These major awards honor exceptional students across the nation. Students who are interested in these opportunities are encouraged to begin work with Pat Whitlow, director of the Office of Nationally Competitive Awards, well in advance of the scholarship deadline.
UK is the University for Kentucky. At UK, we are educating more students, treating more patients with complex illnesses and conducting more research and service than at any time in our 150-year history. To read more about the UK story and how you can support continued investment in your university and the Commonwealth, go to: uky.edu/uk4ky. #uk4ky #seeblue
---
Awards
Biosystems Ag Engineering