Cooking class goes beyond kitchen skills
Cooking class goes beyond kitchen skills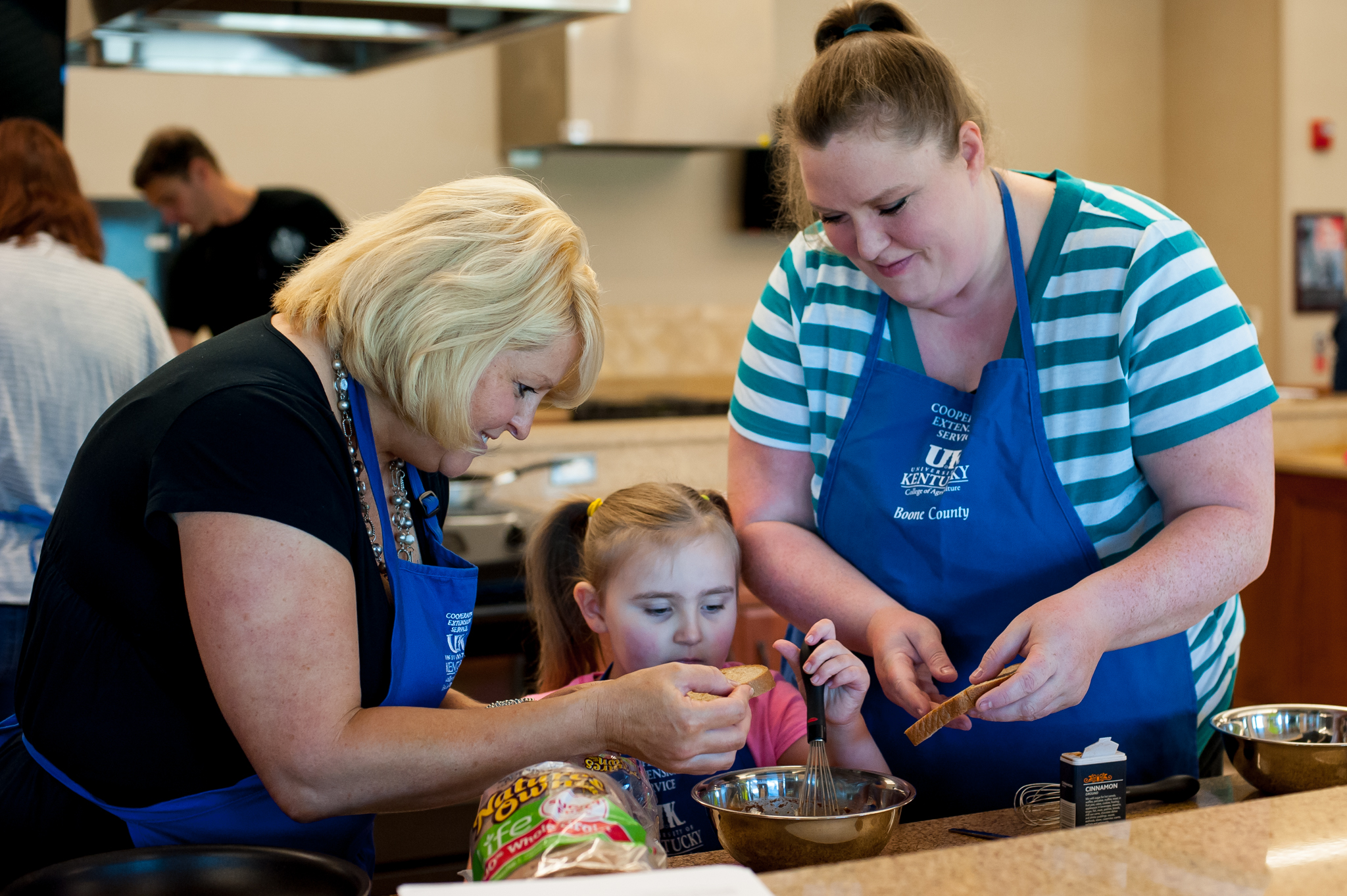 BURLINGTON, Ky.—
In the past 18 months, Jamie Porter has faced many challenges. Her husband passed away, and she quickly became a single mom to three children—one grown, one 17 and one 6 years old. She homeschools the youngest child, Lacey, and was grateful to find some helpful resources through the Boone County Cooperative Extension Service.
Lacey has expressed a desire to be a chef when she grows up so Porter recently joined other Northern Kentucky homeschool families for a cooking class at the extension office.
"We've already started laying those bricks," Porter said. "She loves to help with dinner and she likes to make sure we are doing things the healthy way."
Children and parents worked together in the kitchen and had lessons about eating more lean protein, choosing low or no-fat dairy, ramping up physical activity, meal planning, budgeting, food safety and portion sizes.
B.J. Porciello is a Supplemental Nutrition Assistance Program Education assistant for the Boone County office of the University of Kentucky Cooperative Extension Service. She led many of the lessons during the multi-week program and worked closely with family and consumer sciences agents as well.
"Each week, the moms are really the ones teaching the kids," she said. "We use basic recipes that are part of our new Healthy Choices curriculum for adults and other extension sources for youth recipes."
During the classes, participants learned to make quesadillas, pumpkin muffins, homemade pizzas with garden toppings, French toast and fruit kabobs. Porter said her daughter was very excited when pizza was part of the class.
Learning from mom is nothing new to Lacey.
"I have been watching my mom cook dinners for us since I was 2," she said. "When I was little, I couldn't really speak. In my brain, I always said I want to be a cook like my mommy. My favorite thing to do is bake pizza."
Porciello said she hopes the families are doing more than just learning to cook.
"I hope they are creating good memories with their kids," she said. "I hope they are learning to make mealtime fun, allowing their kids to do more hands-on things in the kitchen and not being afraid to let kids use knives safely."
The lessons go beyond the kitchen and into the homeschool classroom. Porter uses all of them to relate to science and math and to show her kids that's it fun to incorporate healthy habits into their everyday lives.
"Moms tend to say their kids are picky eaters, but we have found, if you let kids be more involved in the shopping and preparation, they are more likely to try things and not be as resistant to fruits and vegetables," Porciello said.
Programs like this one are taking place all across Kentucky. Contact a local Cooperative Extension office for specific county programs. To find the closest office, click here.
---
Extension
Family Consumer Sciences