Discovery Of Soybean Rust No Cause For Panic
Discovery Of Soybean Rust No Cause For Panic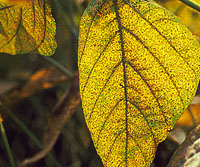 PRINCETON, Ky.—
The discovery of soybean rust last week in Louisiana marks the first time this potentially devastating disease has been found in the United States.
Known as "Asian soybean rust," the fungal disease had been found in all major soybean growing areas of the world except the United States until last week. Officials believe spores of the disease may have been carried into the area by hurricane winds. The disease poses potentially devastating losses in soybean yields, but it poses no risk to human health.
It can be controlled by using fungicides but can increase production costs as much as 25 percent, said Don Hershman, a plant pathologist with the University of Kentucky College of Agriculture. There are several fungicides already available for use and between now and spring more will likely receive approval.
With the Nov. 10 announcement by the U.S. Department of Agriculture, soybean producers shouldn't panic, Hershman said.
"It is not the end of the world," he said. "Other countries have learned how to survive with this and soybean production acres are still fairly stable in the world. So, if they can do it, we can do it too. It will be a challenge and there will be some pain, but overall, we will survive."
Researchers are searching Louisiana and many other states for signs of the disease. In Kentucky , researchers will be looking at plants such as kudzu and volunteer soybean plants to see if any sign of the disease has shown up here.
The disease probably will not overwinter in Kentucky . To infect soybean fields in the state, spores would have to be carried up from the southern United States by winds every year.
"I think it is safe to assume it is going to be here at some level next year," Hershman said. "It's unlikely it's going to go away now. We really have no idea how extensive it will be. Clearly, it can move long distances in a very short time given appropriate conditions, but there also have been times when it really hasn't moved that far."
That can depend on how well it overwintered, wind movement, whether conditions favor spore production and if conditions are right for spores to take hold when they blow into an area. Warm, moist conditions are conducive to a rust outbreak.
Models being done at Iowa State University accurately predicted where the disease would spread in South America and that may provide assistance this spring to help predict where it might develop in the United States, Hershman said.
"That will be one piece of the puzzle," he said.
In the next few months, UK plant pathologists will be conducting educational meetings throughout the state to help producers, Extension agents, consultants and crop scouts identify the disease that also affects garden beans, ornamental legumes and many other legumes. Participants will be able to see leaves embedded in resin containing soybean rust, which is dead, along with a pocket information guide that can be taken to the field. A national publication on fungicide application, which Hershman is helping script, also will be available.
There also will be extensive training for people interested in being first detectors.  They would be recognized in the state as first detectors for this disease, he said.
This spring, Hershman will be initiating a "sentinel" plot program.  Soybean plots will be planted across Kentucky sooner than the crop traditionally is planted for early detection should rust come into the state. This will help farmers determine if and when to apply a fungicide to protect crops.
If there was a good time for soybean rust to enter the United States it is now, Hershman said.     
"The fact that it was discovered right at the end of a harvest season, when there's no chance to hurt this year's crop and at the earliest possible time to plan for the future crop, is a blessing, really," he said.
There is some concern farmers may opt to switch to other crops, but that has its own set of problems. If producers switch to corn, there is the potential to glut the market as well as increase disease and insect pressures from continuous corn production.
As farmers think about the coming production year, they need not panic but should attend educational meetings on soybean rust, avail themselves of up-to-date information in the spring, scout fields, and contact their chemical suppliers to ensure that sufficient product will be available to meet their application needs on a timely basis.
Additional and timely information on soybean rust can be found on the College of Agriculture 's Web site. To access the information, go to http://www.ca.uky.edu and click on soybean rust under Hot Topics.
                                           -30-