Drought Causing Early Tobacco Harvest
Drought Causing Early Tobacco Harvest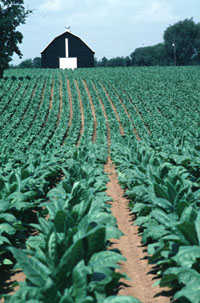 LEXINGTON, Ky.—
Dry weather and disease are taking their toll on tobacco crops in Kentucky. Drought conditions are causing producers to harvest tobacco crops earlier than usual.
Many early-set tobacco plants rapidly are approaching maturity and beginning to severely "fire up" on the bottom. As a result, harvesting has begun throughout much of the Commonwealth.
"Tobacco harvested and hung under the hot dry conditions of late summer will have a tendency to cure very rapidly, especially under windy conditions," Bob Pearce, agronomist for the University of Kentucky College of Agriculture, said.
Pearce suggests monitoring barns and curing structures regularly and to observe the rate of curing. Tobacco that cures too fast will tend to be flashy and will not bring the best auction prices. Barn doors and vents be closed to slow the rate of curing to get the best color.
Under the hot and dry conditions, tobacco house-burn should be of little concern. However, during extended rainy periods, growers should watch or smell for house-burn.
"It's important for air to move through the tobacco, not just around the edges," Pearce said. "There are no hard and fast rules about opening and closing barns for optimum curing, but it does take regular monitoring to check the progress."
Late-set tobacco crops also are suffering from the drought. The plants are shorter than normal and many already have bloomed. The bloom needs to come out so leaf spread can occur. Pearce said not to expect much leaf-spread unless more water is available, either through irrigation or much-needed rainfall.
On a positive note, Pearce said that often dry-weather tobacco will fare much better than the producer expects based on the appearance of the crop in the field.