Drought creates different insect problems
Drought creates different insect problems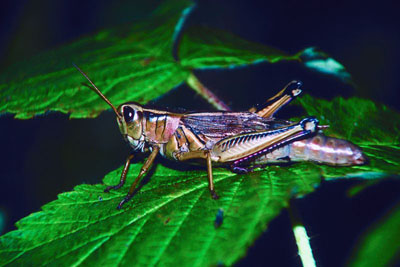 LEXINGTON, Ky.—
Hot, dry weather could have some insects feeding in greater-than-normal numbers on crops like alfalfa, tobacco and some vegetables.
"Alfalfa, with its long tap root, will stay greener and more succulent during a drought than pasture grasses or field crops," said Lee Townsend, extension entomologist in the University of Kentucky College of Agriculture. "That makes alfalfa attractive to most any insect that can use it, even if the bug normally doesn't eat alfalfa. Also, irrigated tobacco and vegetables will be very attractive to insects like grasshoppers and stink bugs under these dry conditions."
For alfalfa, the potato leafhopper is often a major pest during the summer. Producers may overlook this tiny insect, because the first indication that this pest is present is the appearance of wedge-shaped yellow areas on the tips of leafs. Diseases and nutritional deficiencies may cause similar yellowing but of whole leaves or entire plants. Stands seeded this past spring and established fields that haven't been harvested in more than 35 days are at the greatest risk of receiving damage from this pest. Harvesting every 35 days, if practical, can help control this insect. After the alfalfa has been harvested, an insecticide application may be needed if the insect population exceeds economic thresholds. For more information on these thresholds, see UK Entomology's Entfact 115 available at http://www.ca.uky.edu/entomology/entfacts/ef115.asp or contact the local office of the UK Cooperative Extension Service.
Many caterpillars, including the green cloverworm and alfalfa caterpillar, are present in the crop to some extent every summer. 
"With poor growing conditions and limited food sources, they may combine with grasshoppers to cause reduced yields and winter hardiness of alfalfa," Townsend said.
Grasshoppers feed on alfalfa stems and leaves, as well as on tobacco and vegetables. Faced with a limited food supply, adults can fly a good distance to feed. Feeding usually starts along the edges of a field.
"Grasshoppers should be abundant, because the bacteria and fungi that normally provide natural control are not very effective under hot, dry conditions," he said.
He encouraged producers to carefully watch the edges of fields for grasshopper activity, as extensive damage can occur quickly before a producer realizes there's a problem.
Insects that normally would not feed on alfalfa, such as tarnished plant bugs and blister beetles, may feed on alfalfa under these conditions, as it's the most attractive food source. If found in large enough numbers, sap-feeding bugs like the tarnished plant bug can speed up the wilting of stressed plants.
Like grasshoppers, blister beetles will begin feeding along the edge of a field and work their way across. The beetles have long, narrow bodies around an inch long, a broad head and antennae that are about one-third the length of their bodies. Unlike most beetles, their front wings are soft and flexible. The most common species in Kentucky are all black or black with a thin, gray stripe on the wing covers.
They are active in mid-July and early August. They prefer to feed on blooming plants and gather in groups. While they do not cause significant feeding damage to the plant, they are a serious health threat to horses, sheep and cattle that consume either live or dead beetles in alfalfa pastures or hay. To avoid blister beetles, producers should cut alfalfa before blooms appear.
In addition, stink bugs are common pests of tobacco and tomatoes. They feed on the middle of the tobacco leaf, which can collapse the plant leaf tissue starting from that point and turn the leaf yellow, especially in hot weather. Because it takes a day or two for the leaf to turn yellow, the bugs will have moved on before producers can make an insecticide application.
---
Crops
Entomology
Environment
Equine
Extension
Livestock
Weather