EFNEP Stories Tell Of People Helping People
EFNEP Stories Tell Of People Helping People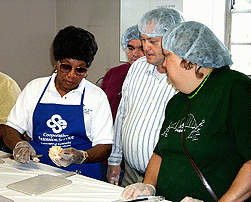 LEXINGTON, Ky.—
It's Monday, and Charlene Thomas is speaking to about 10 special-needs adults gathered around a kitchen table in Louisville. The group listens intently as Thomas instructs them about the link between good nutrition and food preparation. Carefully, patiently, she shows each person how to prepare fruit for a fresh, low-calorie salad.
"Yes, that's the way to do it," she assures a man who's peeling and slicing an orange. "This salad's going to taste good, and be good for you as well."
Thomas is an assistant with the USDA's Expanded Food and Nutrition Education Program, or EFNEP, administered by UK's Cooperative Extension Service. This year EFNEP is celebrating its thirtieth anniversary -- 30 years of service to mothers, fathers, homemakers, children, and special clients.
Thomas is celebrating too. She started with EFNEP in 1969.
"I do this job because I like it," says Thomas. "I like being in the kitchen. I like cooking. And most of all I like helping people. It makes me feel great inside. It's as simple as that."
For Thomas, and the nearly 80 EFNEP assistants working in Kentucky's communities, helping people is what the job is all about.
"The reward has been seeing people help themselves and go out and do better," says Letha Coffey, a retired assistant in Jackson County. For 23 years Coffey helped families learn about canning, meal planning, food preparation, and gardening. She remembers one family in particular. "There was a woman living alone with four children," she recalls. "I got to visiting her home, and then her mother's home, and then her friends, and so on. And as time went by I saw that family accomplish a lot. The children did well in school, and one of the boys went on to become a state trooper."
Coffey says people were almost always receptive to her help. She says because she had five children of her own she was able to relate to homemakers. Often families became EFNEP participants by simply being asked.
"We started out by knocking on doors," says Jane Lear, who also worked 23 years as a Jackson County EFNEP assistant. "I was born in this county and I knew quite a few people. And often they had heard of me, or knew my father and mother who ran a business in McKee."
Lear says EFNEP taught her an important lesson about working with people: Sometimes you have an impact on people's lives without even knowing it.
"I remember going to a woman's house a few times and teaching her how to make spaghetti and meatballs," says Lear. "Well, I didn't think I was having much success, and I almost gave up. Imagine how surprised I was a few months later when that same woman stood up at a meeting and told the group that she would never forget how I taught her to make spaghetti and meatballs, and how much she appreciated my help!"
Sallie Davis – an assistant who is celebrating 30 years of EFNEP service in Kenton County – recalls the lasting influence her EFNEP visits had on a young girl many years ago.
"I taught cooking classes in homes, and young people often were included," says Davis. "The other day I ran into one of those youngsters. She's now grown with children of her own, and she said 'Miss Sallie, I remember you and those cooking classes so well, and how you taught us to measure and to read a recipe. And I could still use some information on how to prepare nutritious meals for my own children!'"
Davis traveled on-foot to clients' homes, where she taught young mothers about selecting nutritious foods and planning balanced meals. She believes her training and education efforts were worth every step of her thousands of visits, often saving families money and protecting their health.
"One of my clients told me her children were having stomach cramps. I discovered she was leaving food out all night and then allowing her children to eat it," says Davis. "She thought it was okay, but I told her about the possibility of leftovers causing foodborne illness if they're not refrigerated. I think this information helped her, and saved her family some doctor bills."
Davis says she believes EFNEP is as important today as it was when it began.
"In fact, it's even more important now than 30 years ago because now we have so many single parents, and many of them are on food stamps," Davis says. "Not knowing how to plan and manage can lead to problems. With EFNEP we teach mothers how to plan meals and how to stretch their food budget to make it last the entire month."