Elk Project Brings Together KY & PA Students For Unique Educational Experience
Elk Project Brings Together KY & PA Students For Unique Educational Experience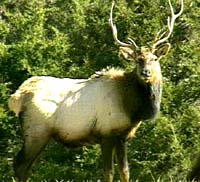 LEXINGTON, Ky.—
High school students from Kentucky and Pennsylvania recently got a live, up-close look at an animal most had previously seen only in books – the elk. On a field trip to UK's Robinson Forest in eastern Kentucky, students from Garrard County High School joined students from schools in Erie and Renova, PA for this unique and exciting educational experience.
"The reaction among the youngsters was pretty electric," said Jeff Larkin, doctoral student in animal science in the UK College of Agriculture, and a field trip leader. "Using radio equipment, we picked up signals from special collars worn by the animals. We ended up seeing three calves, some cows, and an adult bull. The elk stayed out in front of us for about 20 minutes, then disappeared back toward Robinson Forest."
The 41 students stayed all night in UK-owned cabins on a Friday night, then rose at dawn for their elk hunt on Saturday.
"We're from a suburban, city-type setting, and a lot of my students have never had this kind of experience," said Carole Biletnikoff, biology teacher at McDowell High School in Erie, PA. "We also have elk in Pennsylvania, and we're hoping to build enthusiasm among the students for continuing their involvement in wildlife conservation."
Biletnikoff said her school's interest in the elk project has resulted in it becoming a Habitat Partner with the Rocky Mountain Elk Foundation which promotes conserving land for elk and other wildlife. The school's efforts to reach out and include other schools led to involvement by the Kentucky students.
"Kentucky Fish & Wildlife passed along a note to us from the Pennsylvania school because they knew we were interested in elk and had used some of their teacher materials and lesson plans," said Jamie Hester, biology teacher at Garrard County High School. "We're now a member of the Rocky Mountain Elk Foundation, and our youngsters are very excited about the opportunity."
"I'm hoping this will become the pilot program that the RMEF will enter into and try to encourage growth among youngsters so it will become a nationwide effort," said Gary West, director of development for RMEF's eastern states region headquartered at Cadiz, KY.
On the field trip, students were able to photograph elk from a distance. A few of the youngsters from rural areas had seen elk before, but most of the others had not. It was difficult to contain their excitement.
"To tell you the truth, it was pretty hard keeping the noise down," said Jeff Larkin. "I was pretty impressed with their reaction."
"This is a fantastic opportunity," said Laurie Hendricks, teacher at Bucktail High School in Renova, PA. "The students are eager to go home and get other youngsters involved."