The Campbell County Cooperative Extension office is taking advantage of the generosity of the local A.J. Jolly Park. It has been able to lease 50 acres from the park for $1 to develop an environmental educational area for all ages.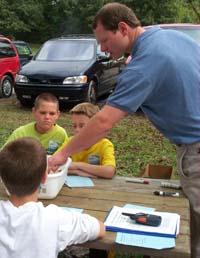 "Due to Extension's reputation in the county, I think they felt comfortable with us using this land," said D.J. Scully, Campbell County Extension agent for natural resources and environmental management. "We'll do programs based on environmental studies like soil, air, water, forestry, wildlife and agriculture. I think it's an ideal site in a wonderful location."
Scully said forest and wildlife observation areas provide a canvas for learning. They will try to integrate traditional subjects with environmental education for youth and adults alike.
"When kids learn, they learn through connections. With things like math, we can teach them to measure trees and find out how much wood is in those trees," Scully continued. "We can talk about how many tables and chairs those trees can supply."
The environmental center also allows visitors to realize the human connection to the world in which they live. The center is tucked away inside an urban park, but visitors feel as if they are "way out in the woods" according to some active fourth graders attending an educational program in September. Interpretative signs greet visitors as they walk along maintained trails to learn about everything the ecosystem has to offer.
There are many 4-H camps and learning centers, however Scully said this is the first environmental education center run by Cooperative Extension.
One of the big programs the center offers is a week long day camp in the fall, where fourth grade students from surrounding schools come in for a half-day of outdoor learning. They get to participate in four or five mini-classes about water quality, forestry, water sanitation and other things.
Teachers also benefit from the center by learning to use the environment as a part of their curriculum.
"I try to assist teachers any way I can," Scully said. "I like to teach them how to use the activities here to stimulate learning about the environment and show them how to connect traditional subjects like math and history to the environment. We're helping them affect as many lives as they can."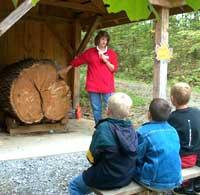 Scully said the future for the center is wide open. Recently ground was broken for a building that will be on the site. With 4,000 square feet of learning space, the center will have an expanded impact. A back wall will be comprised mainly of mirrored windows to serve as a bird blind. Natural sound will be piped in so visitors can watch and listen to the outside birds and wildlife.
"We'll have interactive displays for the visitors to enjoy," he said. "And, if it does rain out here, we'll be able to continue education and not have to worry about the weather." 
Scully also plans to publicize the activities more and encourage more use of the facility by other counties and throughout northern Ky. He said they just want to make the site available and as user-friendly as possible.