Extension agent leads students to nature
Extension agent leads students to nature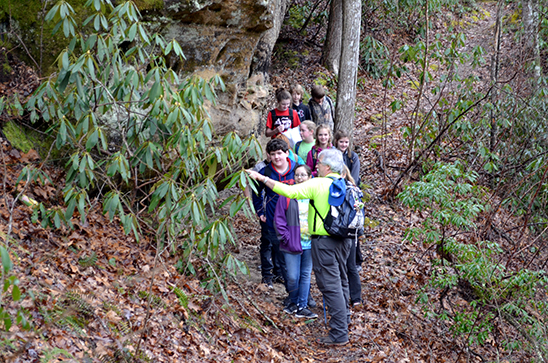 WHITLEY CITY, Ky.—
In an effort to get members of his community active and appreciate the beauty in McCreary County, a University of Kentucky Cooperative Extension Service agent has been encouraging his county residents to "take a hike" for the past decade.
Located in southern Kentucky, McCreary County is a nature lover's paradise. It is home to Cumberland Falls, the Daniel Boone National Forest and numerous natural arches, streams and waterfalls. While people travel from all over the country to visit these natural attractions, many locals have never seen them. Greg Whitis, the county's agriculture and natural resources agent, took notice and wanted to change that.
With funding from the former Health Education through Extension Leadership program, Whitis collaborated with Carol Jones, the county school district's gifted and talented resource teacher, to get her seventh-graders out in the county. That partnership is still going strong.
"There's been such an impact on the kids' social and emotional development," Jones said. "They form bonds with kids that they may not otherwise hang out with at school. A lot of them are proud of themselves for completing the hikes, as our hikes begin easy and then get harder throughout the year. I've seen them develop a lot of pride in the county as they get out and learn about its history and see the beautiful places."
McCreary County has more than 200 miles of hiking trails. Whitis's monthly hiking excursions take students to different areas of the county. Each year, the class hikes to different locations, with a few of the most popular hikes being annual events. As long as the weather permits and the temperature is at least 25 degrees Fahrenheit, they hike. While physical activity is still an important part of the hikes, the trips also include discussions about the county's history, local job awareness and career opportunities, among others.
On a recent misty morning, Jones, Whitis and the latest group of seventh-graders hiked through the Natural Arch Scenic Area and what was the Barren Fork Community, a former coal camp now completely forested and owned by the forest service.
"Our hope is that they will go back and get their families to these places to see them and appreciate what we have here," Whitis said.
And that is what has happened. Jones said many parents have asked her how to get to the places their child hiked to in class, because they want to go again. The program has expanded to include a monthly hiking option for adults, many of which became interested due to their children's participation. Adult participation has also stretched beyond the county with people joining in from Northern Kentucky, Louisville, Bowling Green, Knoxville, Tennessee and everywhere in between.
While the money from the initial grant is long gone, Whitis and Jones have found ways to fund the program and will continue to get students on trails as long as they can.
"There would be a lot of disappointed kids and a lot of disappointed parents if these hikes were to stop," Whitis said. "I think it's important to get these kids out to places they've never seen—some of these places their parents have never seen—so they have a better appreciation for nature."
---
4 H Youth
Extension