Extension connects students to Jesse Stuart
Extension connects students to Jesse Stuart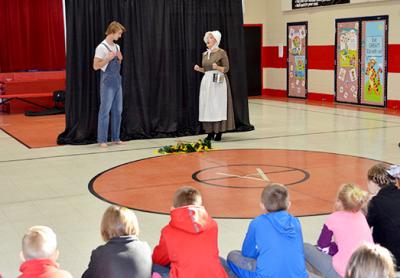 ARGILLITE, Ky.—
The Greenup County office of the University of Kentucky Cooperative Extension Service is using the arts and natural sciences to bring the works of a world-renowned writer to life for students in his native county.
Anne Stephens, the county's fine arts extension agent, collaborated with Greenup County Farm Bureau, Greenup County School District and Shawnee State Park in neighboring Ohio to present Jesse Stuart's "Old Ben" to the county's third-grade students. The story about a young boy named Shan who befriends a black rat snake is one of a few Stuart junior novels that the county's fine arts agents have made into plays over the years.
"With 'Old Ben', we realized the opportunity was there to add additional layers to the performance by incorporating a variety of educational components into the school assemblies." Stephens said. "We knew we could reach more students by going to them."
Stephens, Eli Raby, a local actor and Greenup County High School junior, and preselected students performed scenes from the book at each of the county's elementary schools.
At Argillite Elementary School, third-graders Courtney Adkins and Jamie Cox participated in the play. They already had read the book in class.
"I really like the book, and my favorite part is where Old Ben lays the eggs," Cox said.
The Greenup County Farm Bureau purchased 225 copies of the book at a discounted rate from the Jesse Stuart Foundation so every third-grader could have a personal copy as well as the accompanying lesson plans for the teachers. It is a project that the organization has sponsored for many years and that worked well with Stephen's program.
"We are advocates for farming, but we also want to express to children how important it is to dream," said Lisa Osborne, secretary of the Greenup County Farm Bureau board of directors. "We think it's important for children to know that, regardless of your background, you can dream dreams, and they can come true like they did for Jesse Stuart."
The program fit in well with Greenup County schools superintendent Sherry Horsley's mission to promote literacy in the county, starting with its youngest residents. Over the past three years, each student in preschool through third grade has received a book to take home through various initiatives and programs.
"It's important for our students to read and learn and grow in that," she said. "With Jesse Stuart, our students get to learn about a successful author from our county and hear some great stories."
At the end of the performance, Jenny Richards, naturalist at Shawnee State Park, brought a real "old Ben" out for the students to see and talked to them about black rat snakes and the role of all snakes in the ecosystem as well as safety measures if they encounter a snake.
"Snakes are an important part of the ecosystem," Richards said. "I think kids should know that, and they should enjoy seeing wildlife in their own yard—not necessarily pick up wild animals but maybe get a picture."
Stephens' goal for the program was to provide the students with a memorable educational experience.
"As arts educators, we know when we layer those opportunities and experiences for our students and make it come to life, they remember it," she said. "It was a great opportunity for us to provide an enrichment experience that reinforced what they had already learned in the classroom."
The UK Cooperative Extension Service is part of the College of Agriculture, Food and Environment. Jointly with its land-grant partner, Kentucky State University, Cooperative Extension takes the university to the people in their local communities, addressing issues of importance to all Kentuckians.
---
Extension
Fine Arts