Extension Helps Integrate Environment Into Classes
Extension Helps Integrate Environment Into Classes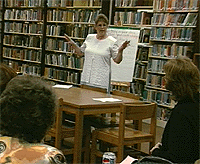 LEXINGTON, Ky.—
In counties around Kentucky, UK's Cooperative Extension Service is helping teachers integrate environment into traditional subject areas such as science, social studies, language arts, and even math. For example, Elliott County Extension agent Gwenda Adkins is working with fourth, fifth, and sixth grade teachers to find ways of using the outdoors as a teaching tool.
"We take our teachers into the woods where we see a forest or a stream and then ask the teachers to thinks of ways to use those in their lessons," said Adkins. "We may identify a certain tree and then ask the English teacher how students might incorporate what they learn about that species into an essay, or we may look at a stream and ask the math teacher how students might solve problems dealing with the depth or flow of that stream."
Although Adkins also works with teachers indoors, she says the ultimate goal is to get teachers and students out of their classrooms and involved in hands-on activity so that students can apply what they've studied.
"We're giving teachers ideas and helping them develop outdoor classrooms, and also helping them recognize how they can relate their text work to real-life situations," said Adkins.
The concept of introducing environment into traditional subject areas is called Environment as an Integrating Context, or EIC. The program began four years ago with a nationwide study that examined 40 existing school environment programs. Study results showed that using the environment as a context for general learning often helped increase test scores, student interest, community involvement, and teacher satisfaction.
"And when we say environment we mean more than ecology and nature," said Jane Wilson, executive director of the Kentucky Environmental Education Council. "Environment can mean anything in the local surroundings. Students might go out and study local architecture and ask questions about how buildings fit into the environment, or they might integrate a building project into their math studies. The high school at Clay County did that a few years ago when they rebuilt an old log cabin."
According to Wilson, teaching environment is not required in Kentucky's schools. That means it's important to make teachers and administrators aware of the benefits of environmental education and the various ways it can be introduced into the curriculum.
"Often teachers present environment as a single subject by itself, and there's nothing wrong with that," said Wilson. "But the integrated concept involves students in cooperative, real-life activities, and in that way broadens the experience while also addressing one of the goals of education reform."
Several agencies have coordinated efforts to bring EIC to Kentucky's schools, including the KEEC, the Kentucky Association for Environmental Education, and the UK Cooperative Extension Service. Many of UK's county Extension agents have found EIC to be an effective way to serve Extension's mission of using educational resources to meet community needs.
"Extension is very much concerned with providing young people with an appreciation and understanding of environmental stewardship, and this is a good way to do it," said Lowell Wagner, Jackson County 4-H agent who's helped develop outdoor classrooms at two local schools. "We work with youth, with teachers, and often with parents in raising awareness of the environment among our school children."
"A lot of EIC programs across the country are agriculture-related, especially in rural areas," said Wilson. "In Iowa, for instance, schools have gotten children working on projects related to ag water quallity. And Kentucky Extension agents have been very involved in our training programs."
"If we can get some of our teachers thinking about this and then actually teaching with the EIC concept, we're hoping the rest of our teachers will follow," said Gwenda Adkins.