Extension Homemakers help the hungry in their hometown
Extension Homemakers help the hungry in their hometown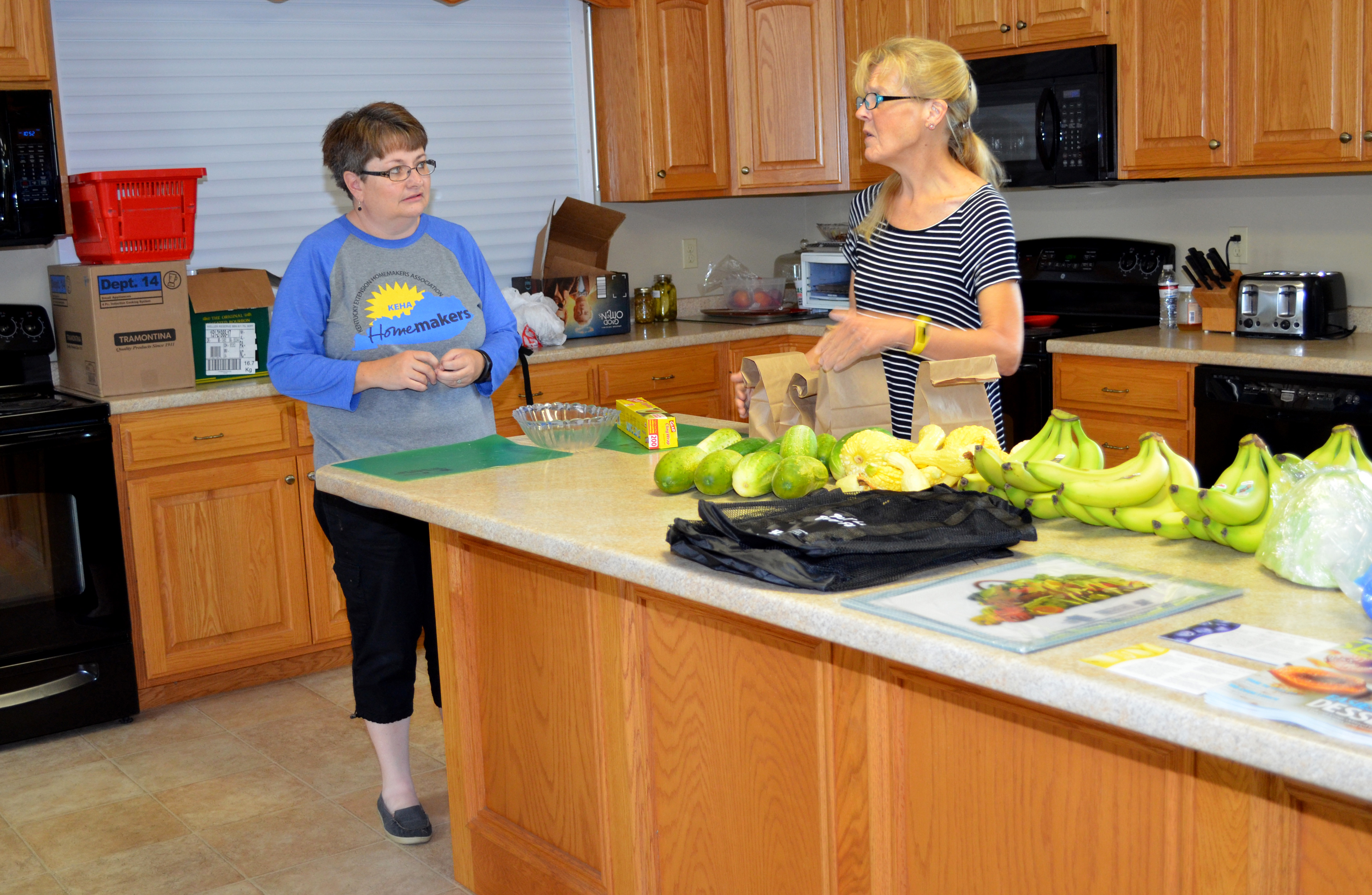 Burkesville, Ky.—
Boxes of cereal, jars of peanut butter and fresh produce from the local farmers market line the tables of the Cumberland County office of the University of Kentucky Cooperative Extension Service. It is packing and delivery day for the Cumberland County Extension Homemakers' summer feeding program.
The Extension Homemakers began the program in their tiny southern Kentucky community of Burkesville after expressing a desire to participate in the Cumberland County Schools backpack program, which sends food home with children to get them through the weekend. When Debbie Messenger, the county's family and consumer sciences extension agent talked to the school district's Family Resource Center coordinator about the Extension Homemakers helping with the program, she learned that some families with school-age children would likely struggle through the summer without the school year feeding programs. They began offering food to families the week after the school year ended.
"It was a wake-up call," Extension Homemaker Cathy Slowik said. "It's hard to fathom because putting food on the table was always a priority for my parents and in my household. I can't stand the thought of a child going to bed at night hungry."
The Extension Homemakers took it upon themselves to fund the program, with all the money to purchase the food coming from their own pockets. Each week, they shop local stores for sales, so as they shop for themselves they can buy extra for the families in need. Recently, farmers market vendors began donating produce for the families as well. In total, the families receive about 25 food items each Wednesday, which should help them prepare three meals per day for a week.
"We work directly in the community and see the needs of our patients and the effects of not having proper nutrition," said Susan Flowers, who is a member of an Extension Homemakers club comprised of hospital employees and affiliates. "We have a high poverty level and a lot of people in need in our community, so we are always happy to give to organizations that provide our local citizens with food."
All donations are brought to the extension office where Messenger and a team of Extension Homemakers make sure each family receives similar items. Then, Messenger along with an extension staff member or volunteer make the weekly deliveries to the families. Along with food, Messenger includes a nutrition-related, educational activity that the children can do. If they complete the activity by the next week, then Messenger gives them a small incentive. This week, it was a jump rope.
"They are so proud when they give the assignment back to me. It helps build up their self-esteem too," Messenger said.
While the Extension Homemakers personally have not met the recipients, they are happy to help those in need in their community, particularly children.
"These kids are going to be better off at the end of the summer because of what Debbie has started," said Bonita Humphrey, Extension Homemaker. "This program is coming from the heart, and these kids are going to do better for themselves because of it."
---
Extension
Family Consumer Sciences